One of our favorite spots for healthy eating in the Valley, Sam Fox's True Food Kitchen, just received a minor facelife by adding some delectable new items to its lineup. We got to try some of the new menu items first-hand. Here's what we thought:
True Food Kitchen unveiled a Vegetables category to its menu to spotlight the season's freshest produce. The Heirloom Tomato Bruschetta featured thick, juicy slices of tomato and a unique, crunchy slathering of almond ricotta. Between the tomatoes and the almond ricotta, the dish barely even needed the bread. The Grilled Avocado (pictured), on a bed of piquante pepper, edamame, organic corn, pepitas and goat cheese, was delicious and, thanks to its creamy texture, tasted almost decadent. Another slice of avocado or two would make the dish even better.
The vegetarian Bowls category is also new and each bowl can be topped off with a protein of your choice: tofu, chicken, steak or shrimp. The Ancient Grains bowl, featuring miso-glazed sweet potato, turmeric, charred onion, snow pea, grilled portobello, avocado and hemp seed, was a table favorite. The grains gave a great toothsome quality to the dish though the sweet potatoes were the star.
The table favorite was the new Summer Squash Pizza (pictured), featuring broccolini, sweet onion and lemon ricotta alongside the squash on a rustic spelt and flax crust. For a pizza, the dish was light and bursting with freshness, thanks to the lemon ricotta. Two people could easily eat the entire summer-friendly pie.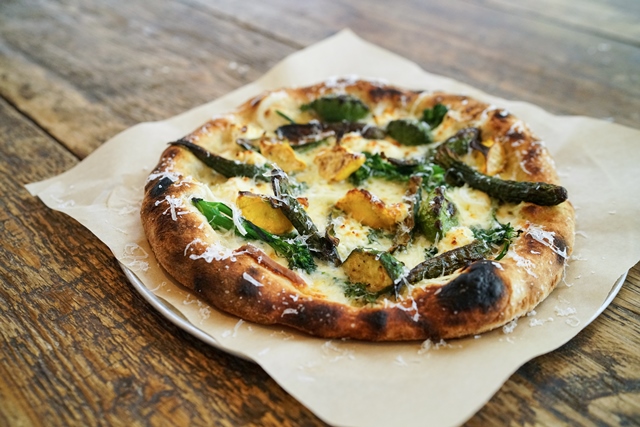 A perfect dish for the late summer, the Summer Ingredient Salad proves you don't need lettuce to make a successful salad. It is a medley of roasted asparagus, garbanzo bean, cauliflower, broccolini, wax bean, mint, Manchego cheese and pistachio, tossed in a Sicilian vinaigrette. The mint added a great hint of freshness while the pistachio provided a welcome crunch.
Craving something a little more hearty? We were head over heals for the Lasagna Bolognese, with house-made chicken sausage, mushroom, spinach, lemon ricotta and herbs between layers of gluten-free noodles. Instead of being blasted with too much sauce and pasta, the ever-so-slightly-sweet dish highlighted each individual item, making for a flavor-packed pasta plate.
Because you can't go to True Food Kitchen without sipping on one of its famed made-from-scratch natural refreshers, the Watermelon Coconut Soda is the ultimate summer sip. The pretty-in-pink concoction of watermelon, lime, coconut water and evaporated cane is kept from getting too sweet thanks to the addition of  Himalayan pink salt.