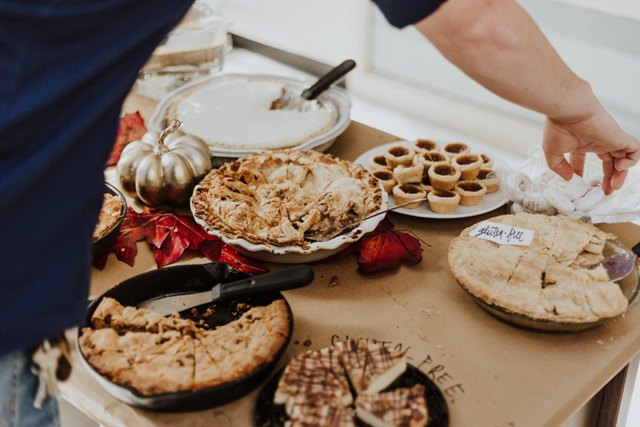 Perhaps you don't want to put too much energy into Thanksgiving but you still want to dish it up in the comfort of your own home? You're in luck. Check out these Valley restaurants offering to-go Thanksgiving eats (be sure to order by each restaurant's deadline).
Benedict's Caterers has launched its annual Thanksgiving Shop. Annual favorites include herb-rubbed turkey, spiral-cut glazed ham, nine-grain stuffing, gourmet mashed potatoes, green bean Florentine, aged white cheddar mac and cheese, brioche rolls, pies and more. Specialty items this year include new vegan and gluten-free options, including acorn squash stuffed with quinoa. Place your order by Sunday, Nov. 18. Pick up orders Wednesday, Nov. 21, from 10 a.m. to 6 p.m.
AZ Food Crafters' new Thanksgiving offerings featuring special seasonal varieties of their beloved hand-pies, seasonal side dishes (think stuffing and sweet potato casserole, desserts (like pumpkin pie and maple pecan pie) and even a complete meal that serves two to four people that includes turkey, gravy, stuffing, potatoes, green bean casserole, rolls and more. Order must be made 48 hours in advance. Pick-ups are available at the following times and locations: AZ Food Crafters Kitchen, 8 a.m. to 6 p.m.; Roadrunner Park Farmers Market, 8 a.m. to 1 p.m.. (Saturday, Nov. 10, and Saturday, Nov. 17); Gilbert Farmers Market, 8 a.m. to noon (Saturday, Nov. 10); and Ahwatukee Farmers Market, 9 a.m. to 1 p.m. (Sunday, Nov. 11, and Sunday, Nov. 18). 
Let Bobby-Q Great Steaks & Real BBQ do all the work this Thanksgiving with its  famed smoked Thanksgiving turkeys. Bobby Q's turkeys are hand-rubbed with a custom blend of spices and then roasted, slow and low over almond and mesquite wood. Each turkey is 12 to 14 pounds and services two to four people. It can be purchased a la carte or packed with a quart of mashed potatoes, a quart of fire-roasted corn, a pint of gravy and eight cornbreads. Also available by special order only will be smoked turkey gravy (only available on Wednesday, Nov. 21). Turkey orders must be placed a minimum of 72 hours in advance of the pick up date and re-heating instructions are provided. (Keep in mind that the turkey is completely cooked, and only needs to be warmed.) The Thanksgiving turkey pick-up will be available from 11 a.m. to 7 p.m. on Wednesday, Nov. 21 at both the Phoenix and Mesa locations.
Whether you're seeking a complete meal (with turkey, gravy, pumpkin pie and tasty sides) to feed six to eight people, some delicious sides or just decadents desserts, Luci's Healthy Marketplace and Luci's at the Orchard has you covered. Pick-ups at Luci's Healthy Marketplace in Phoenix only the day before Thanksgiving (Nov. 21 between 3 and 6 p.m.). Cancellations must be made before Nov. 18 and final orders must be made by Nov. 20.
For those in need of a delicious pie, Common Ground Culinary has you covered. In Scottsdale, Sweet Provisions will be featuring a variety of flavors for every taste bud including Pumpkin, Apple, Key Lime, Coconut Cream, Butterscotch Pecan and Chocolate Mousse. In Phoenix, The Macintosh will offer Apple, Pumpkin, Coconut Cream and Key Lime, while The Collins will feature Butterscotch Pecan, Pumpkin, Chocolate Mouse and NY-Style Cheesecake. 72-hour advanced ordering is required. Thanksgiving pies must be ordered by Monday, Nov. 19, and can be picked up on Tuesday, Nov. 20, and Wednesday, Nov. 21, at the respective locations. 
The Original Chopped Salad will be now available in limited quantities for pre-sale purchase in one-pound increments which serves about four side-sized portions ($20 per pound) at TheGladly.com/store. Guests can then pick up this Thanksgiving starter at The Gladly anytime during regular business hours Wednesday, Nov. 21. 
Both locations of Liberty Station American Tavern and Smokehouse offer a hassle-free Thanksgiving holiday with new pick-up offerings. Liberty Station's "Thanksgiving to Go" package features sliced smoked turkey, plenty of sides and choice of apple or pumpkin pie. Orders must be made by noon on Sunday, Nov. 18. Guests will be given a specific time within the timeframe of 2 to 6 p.m. on Wednesday, Nov. 21, and 11 a.m. and noon on Thursday, Nov. 22, for pick-up.
The Market by Jennifer's will offer Thanksgiving curbside catering with a meal that serves a party of six. The meal includes a whole roasted turkey, delicious veggie sides, a bread board, tasty pie and more. Latest date to order is one week prior to Thanksgiving. 
Over Easy has a pre-order breakfast menu perfect for groups of five or more. The Holiday Take Away menu offers four of Over Easy's most popular breakfast dishes in family-sized portions. Each order comes with instructions for reheating and serving. The menu is available to pre-order at its Biltmore and Arcadia restaurants for pick-up on Thanksgiving Eve. 
Perk Eatery is offering pre-assembled take-and-bake side dishes and ready-to-assemble salad to complement the main entrée. Items include a harvest salad, sausage-and-sage stuffing and praline bacon maple sweet potatoes. Each salad and side serves between six and eight people, and items will be packed separately to ensure maximum freshness. Orders must be made 48 hours in advance, by phone, e-mail or in the restaurant. All pre-ordered items will then be freshly made and ready for pick-up in the restaurant Wednesday, Nov. 21, from 11 a.m. to 3 p.m.
Impress your guests with Chef Justin Beckett's award-winning Fig & Pecan pie. For an added flavor bonus, the Fig & Pecan Pie can be served alongside a pint of Chef Beckett's original citrus zest cream cheese ice cream. Available for pre-order through Sunday, Nov. 18, at Beckett's Table and Southern Rail. Orders may be placed by calling or stopping by either restaurant. Pie orders placed at Beckett's Table must be picked up at Beckett's Table and pie orders placed at Southern Rail must be picked up at Southern Rail. Pies will be available for pick-up on Wednesday, Nov. 21, between 11 a.m. and 6 p.m.
Let Hotel Valley Ho craft the perfect dinner including turkey, whipped potatoes, cornbread and sausage stuffing, and much more. The meal is priced per person with whole pies also available. Place your order by 5 p.m. on Tuesday, Nov. 20.
A variety of pies (including apple, cherry, pumpkin, pecan and more) and cakes will be available Chase's Diner. The dessert are available through Nov. 19 with a three-day notice. Pick up pies by Nov. 21.
The Phoenix Ale Brewery Central Kitchen is offering a takeout Thanksgiving Pheast that feeds six to eight people, with a smoked orange peel IPA-brined turkey, plenty of sides, and a choice of dessert. Meals will be prepared and ready for families to heat and serve. Pick-up will be Nov. 21, from noon until 10 p.m. or Nov. 22 from 9 a.m. until 3 p.m. All orders must be placed by Tues., Nov. 20. 
24 Carrots Natural Café and Juice Bar is offering complete vegan catered meals or a la carte options for Thanksgiving, including mains, sides and desserts. Orders and reservations must be received by close of business Sunday, Nov. 18, and can be made by calling 480.753.4411. Pick-up orders will be available in the afternoon on Wednesday, Nov. 21.
Enjoy a full turkey dinner with all the fixins and even add on dessert and opt for the pumpkin pie with cinnamon sweet cream or the rich bourbon pecan pie from Mountain Shadows. To place a Thanksgiving to-go dinner, call 480.624.5431 or e-mail hearth61@mountainshadows.com by Tuesday, Nov. 20, at 5 p.m. Please specify a preferred pick-up time between 10 a.m. and 4 p.m. on Thanksgiving Day.