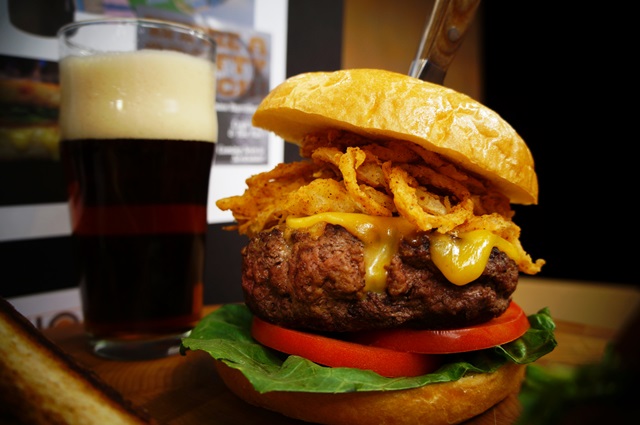 In Salty Senorita's former spot in Old Town is the brand new brainchild of restauranteur John Casale: Union Barrelhouse. The new nano-brewery dishes up tavern cuisine and its own artisanal craft beer. Though the spacious, bike-friendly restaurant has a cool, laidback vibe to suit the lunch crowd, it ramps it up at night with live entertainment and a bustling bar with 30 handles of brew.
On the menu, Union Barrelhouse's Modern Melts are a signature item, especially the mouthwatering PB & J (pear, brie and jam). The melt is crafted of triple crème brie, bosc pears, bacon jam and wild arugula on sourdough and is a delectable mash-up of sweet and savory, creamy and crunchy. Get the parmesan and truffle fries on the side. But before you dig into the PB & J, try the Liberty Fondue–three soft pretzel sticks with a side of three-cheese fondue, drizzled with balsamic. Sinful and scrumptious, and the pretzels definitely stick to its name by being soft (appetizer soft pretzels are sometimes on the dry side, but not here). Salads, soups, burgers and hearty entrees round out the menu (there is also a great kids menu as well as brunch).
Union Barrelhouse also has a star on its dessert menu with the Icebox Berries. Though simple, the dessert gets it right with a mason jar of frozen berries, topped with warm white chocolate ganache. We're told diners have been known to drink the delicious blueberry-ganache syrup once the blueberries are gone. www.unionbarrelhouse.com.