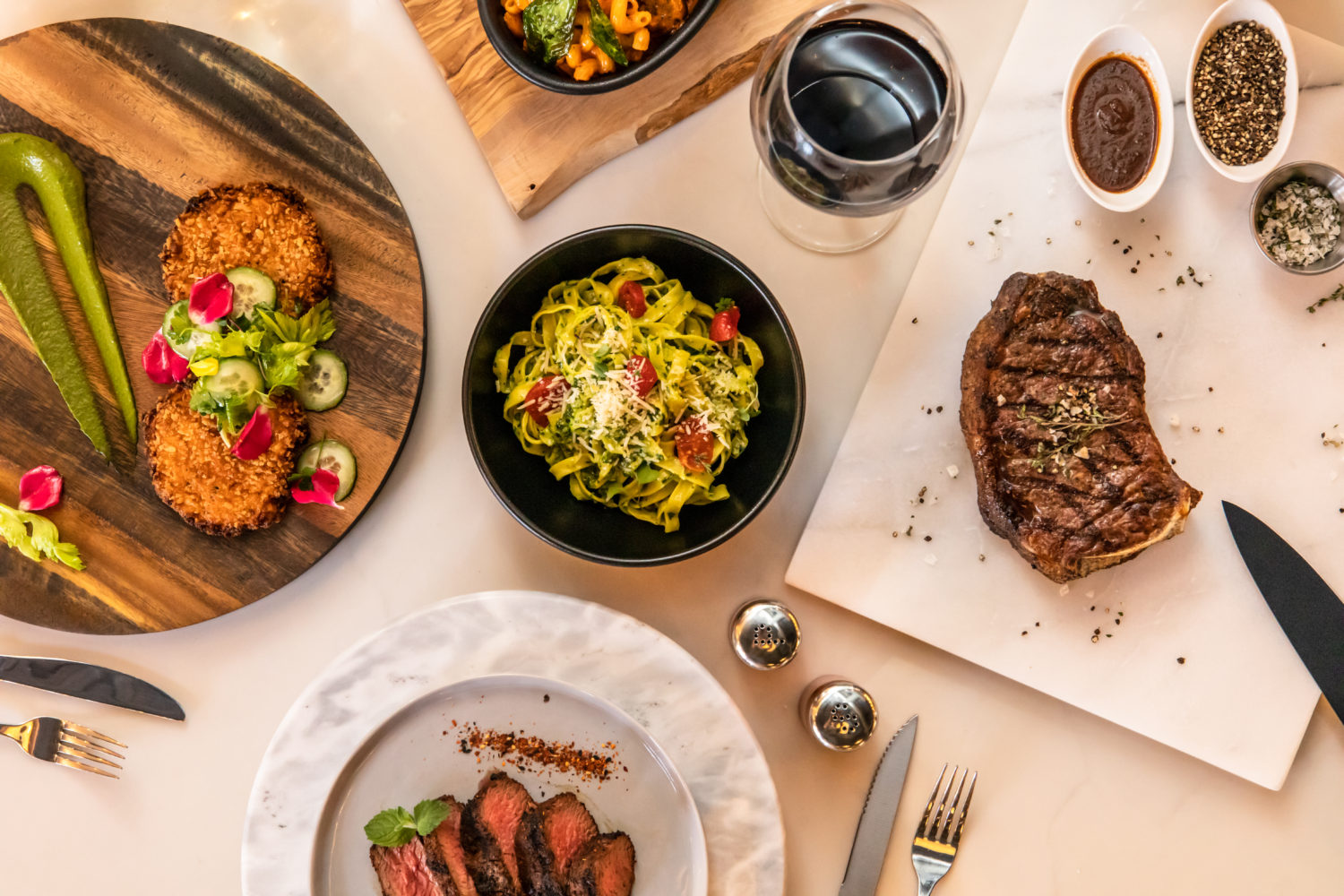 Foodie news roundup for the week of Oct. 7.
Though it is forever the home of the most delicious salt-and-vinegar fries ever, Scottsdale's Hand Cut Burgers & Chophouse (pictured) recently launched more than a dozen new items (while keeping said fries on the menu, phew). The additions touch on every section of the menu, from apps to desserts, including incredible new grass-fed meatballs and crab cakes appetizers; a colorful veggie chopped salad; decadent new pasta dishes, like the must-try crab mac and cheese and scallops and mushroom fettuccine; and meaty offerings like the filet sandwich, bison loin and bone-in New York steak. The cocktail program also welcomed a few newbies to the lineup, like the oh-so-pretty Scottsdale Sunset (Bombay Sapphire Gin, fresh lemon juice, simple syrup, egg white, Angostura Bitters and topped off with a touch of cabernet) and, for dessert, the Cold Brew or Key Lime martinis. 
The 10th Annual Arizona Taco Festival sponsored by the City of Scottsdale takes place Oct. 12 and Oct. 13 with more than 50 taco teams dishing out creative steak, pork, seafood, veggie and even vegan tacos, as they compete for $10,000 and bragging rights in this esteemed taco competition. The fest moves to WestWorld of Scottsdale this year and will feature live music, a lucha libre arena, a hot sauce tent, a tequila expo, a cooking demo, a VIP Cantina for $150 per day, taco-eating contests, a chihuahua beauty contest and more. The festival is open from 11 a.m. to 7 p.m each day. One-day general admission is $15 per ticket. Military members will receive half off their ticket. Tickets are only sold online on AZTacoFestival.com; food and beverages cost extra. This is a cashless event.
Taking place Oct. 11 through Oct. 13, celebrate The Churchill's One-Year Anniversary Weekend with three days of food, drinks, music and fun in Phoenix. Hosted all weekend long, enjoy a live concert by the Phoenix Phunkeros, plus specially-priced food, drinks, games and more in The Churchill's central courtyard. Home to 10 locally-owned businesses, each storefront will be offering unique anniversary deals, such as discounted Foxy Fruit Smoothies & Acai Bowls paired with yoga in the courtyard. Plus, The Churchill is always dog friendly, and you can even order Puppicinos for your four-legged friends at the on-site Mexican restaurant, Provecho comida de mi tierra.
Boba tea concept Sharetea has opened its first Arizona location at Desert Ridge Marketplace near the Splash Pad in The District. Sharetea offers an eclectic lineup of tea drinks with high-quality tea leaves, and guests can enjoy traditional favorites like iced or hot brewed green or black teas, classic milk teas, freshly pureed fruit flavors, ice blends and creamy concoctions. Those feeling adventurous can add in boba, ice cream, jellies or pudding.
It's National Seafood Month, and Angry Crab Shack is celebrating by offering an "add to the bag" special. Meaning, guests can purchase a lobster tail to beef up their seafood boil bag for only $10, normally $15 or more.
Original ChopShop is fueling the fall season with the return of its spooktacular protein shake. From Oct. 7 to Nov. 30, guests can "Fuel Their Well-Being" with the Jacked O' Lantern Protein Shake, a delicious blend of pure pumpkin puree, almond milk, chia pudding, vanilla protein, cinnamon, dates and agave.
On Wednesday, Oct. 16, at 6 p.m., Liberty Station American Tavern and Smokehouse at DC Ranch and Gifted Palate are teaming up to host a four-course "Zin & BBQ" wine-pairing dinner. Dann Lewis from Gifted Palate will select various zinfandel varietals from different regions throughout California that complement each plate crafted by the kitchen team at Liberty Station, and he will showcase for guests why zinfandel is such a great pairing for barbecue. Cost is $65. 
VooDoo Daddy's Steam Kitchen celebrates National Gumbo Day on Saturday, Oct. 12, by offering their new hurricane drinks for only a penny with a purchase of a gumbo entrée. The new drinks, available in traditional, Sangria Rum Berry Freeze and the signature VooDoo hurricane, are usually sold for $4.50 during happy hour from 5 to 7 p.m. every day of the week. All three drinks are served in a traditional hurricane glass. The traditional hurricane is a sweet blend of rum, lemon juice, and passion fruit syrup. The Sangria Rum Freeze combines rich flavors of a house-made sangria with rum. The signature VooDoo hurricane is a delicious blend of a hurricane and sangria.