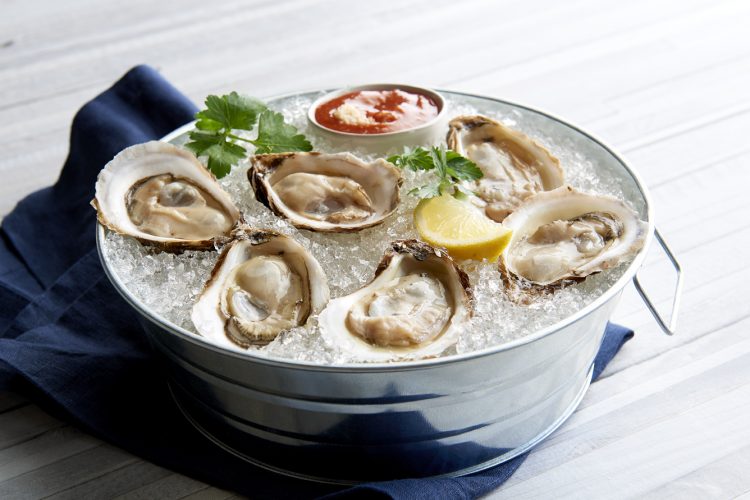 Foodie news roundup for the week of July 29.
Ocean Prime announces a special limited-time-only summer gift card promotion now through Saturday, August 10. Available exclusively online, guests may use code PRIME19 when purchasing gift cards directly at www.oceanprimegiftcards.com and receive 20 percent off orders of $100 or more.
Grimaldi's Pizzeria is offering a new summer lunch combo that is available through August 30. The combo selections are $10.99 for a 12-in. traditional cheese pizza or $11.99 for a pesto pizza/white pizza/calzone. Each option comes with a soft drink or iced tea. Additional toppings are available at an extra cost of $1 each. This summer lunch combo is only available at the Scottsdale Quarter location Monday through Friday from 11 a.m. to 4 p.m.
National Oyster Day is on Monday, August 5, and Chart House (pictured) is excited to celebrate by offering a half-dozen raw oysters or an Oyster Rockefeller for just $10. Angry Crab Shack will honor the holiday with a special at all eight locations with $1 raw oysters by the half or full dozen. Available while supplies last.
Through August 31, Zinburger is offering kid's meals for only $4. Stop by any Valley Zinburger location and let the the littlest diners choose from several tasty options including hamburger, cheeseburger, grilled cheese or chicken strips. Kids meals also include a soft drink and a choice of hand-cut fries, sweet potato fries or a ranch salad.
Sadly, Bar Pesce will be closing the doors to his award-winning restaurant on Tuesday, July 30. But the restaurant isn't going out without a bang. On Thursday, July 25, don't miss the final Tacos & Riesling night featuring gourmet tacos on Tacos Chiwas' tortillas paired with summery versions of this classic sipping wine (bar area only). The Last Supper on Saturday, July 27, will be the last night of dinner service at Bar Pesce. Finally, come say goodbye on Monday, July 29, with a Pizza & Pét-Nat (sparkling wine) party featuring former Bar Pesce/Crudo sous chefs.
Chef Justin Beckett invites guests to come together for homemade pasta dishes at Beckett's Table Pasta Night. Every Thursday, Chef Beckett will create pasta dishes for the night in limited quantities as he will only use what is fresh from local farmers and artisans. Pasta Night starts at 5 p.m. and ends when the dish runs out.
Nico Heirloom Kitchen in Gilbert has rolled out a can't-miss Thursday-night dinner series. The weekly event will include a four-course meal with drink pairings for $70 a person, which includes tax and gratuity. The intimate dinner kicked off July 25 and will run for 12 weeks.