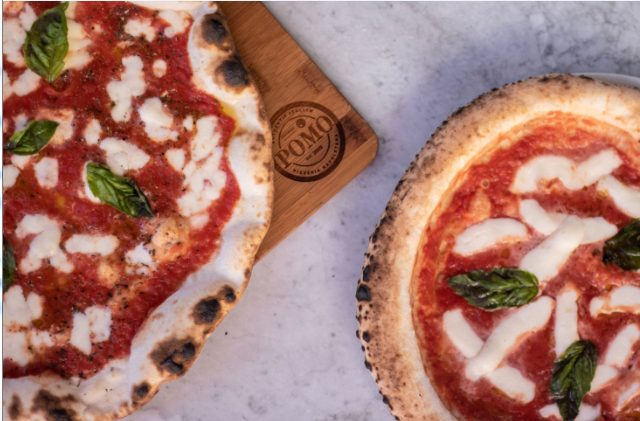 Foodie news roundup for the week of Feb. 4.
First up, some National Pizza Day deliciousness:
In honor of National Pizza Day, My Harkins Award members will receive 50 percent off all pizza and flatbread orders Feb. 7 to Feb. 10. The deal is good at all Harkins Theatres locations and is unlimited. My Harkins Awards is free to join.
On National Pizza Day (Feb. 9), Pomo Pizzeria (pictured) will offer guests a margherita pizza for $10 (usually $14). They can choose between the Napoletana or Rimini pizza style. Plus, $1 from every margherita pizza order will benefit Phoenix Children's Hospital. This deal is valid at all three Pomo Pizzeria locations (Scottsdale, Phoenix and Gilbert).
The owner of Pasta Brioni, Michael Siggins, has launched a new dining concept on Tatum and Bell Roads, called NPX – which stands for North Phoenix. Some of the restaurant's unique eats include cheesesteak eggrolls, Ray's root beer pot roast, waffle-battered chicken, Asian nachos and many more delish dishes.
CB Live will give away 1,000 free lunches on Wednesday, Feb. 13, from 11:30 a.m. to 1 p.m. The restaurant and entertainment venue will offer options like the roasted vegetable wrap, turkey wrap, grilled chicken sandwich, hummus and pita, soup, salad and more. Guests can choose to dine in or take out. Offer only available in person. No call-in orders. Offer available only while supplies last.
ZuZu at Hotel Valley Ho is serving up a special edition of its "Show Stopper" Shake for February: the Samoa Lava Cake Shake. It's all part of the Girl Scout Cookie Dessert Challenge, where local chefs go head to head to create a winning dessert with one of the Girl Scout Cookie flavors, and features a chocolate shake with a Girl Scouts Samoa cookie, house-made Samoa-style cookie, caramel, coconut, dark chocolate coconut truffle, coconut brittle, warm chocolate lava cake and coconut whipped cream. The "Show Stopper" Shake is $16 and the featured flavor changes monthly.
Grimaldi's is celebrating its Sweet 16 anniversary with a tasty treat for their Valley customers. From Feb. 11 through Feb. 17, guests can get a free cannoli with a purchase of a pizza at their local store, one per check.
On Saturday, Feb. 16, from 11 a.m. to 6 p.m., the Arizona Wine Growers Association (AWGA) will be hosting the Sixth Annual Off the Vine Arizona Wine Festival at the historic Steam Pump Ranch in Oro Valley. This year's festival will feature exclusive tastings from 24 of Arizona's finest wineries, live music and local fare from a variety of Arizona eateries. Early bird online tickets are $20 and includes a commemorative glass with eight wine tasting tickets, or $30 at the door.
For lunch on Saturday, newly opened Fellow Osteria will be offering 50 percent off all pizzas in honor or National Pizza Day from 11 a.m. to 4 p.m.