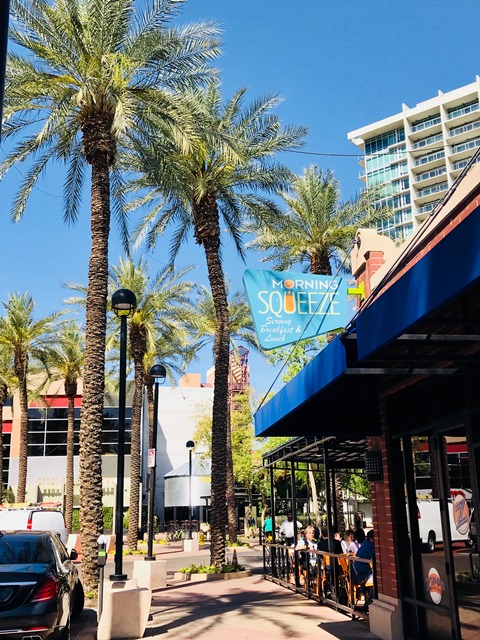 Foodie news roundup for the week of April 16.
Morning Squeeze (pictured) has opened its second Valley location; the restaurant is located in Tempe just off of Mill Avenue near Arizona State University. Guests can look forward to a bright and cheery atmosphere, an expansive dog-friendly patio complete with a comfy lounge area, and breakfast and lunch available from 6:30 a.m. to 2:30 p.m. daily. Menu favorites include the sunset-hued mimosa flight, the fruity Laguna Beach acai bowl and the hearty, satisfying VW Squeeze on a pretzel bun.
On Saturday, April 21, from 11 a.m. to 1 p.m., The Camby's Executive Chef Dushyant Singh will collaborate with restaurateur Stephanie Izard – nationally known as the winner of Top Chef and Iron Chef Gauntlet, Food & Wine's "Best New Chef," and James Beard Award winner – for a one-of-a-kind Tipsy Tea Party. Tipsy Tea Party guests will have the chance to rub elbows with Chef Izard as she showcases dishes from her brand new cookbook, "Gather & Graze," including squash blossom crab rangoon, salmon toast and strawberry gazpacho finished off with a mango coconut cloud. Chef Singh will prepare Tipsy Tea fan favorites like his truffled deviled eggs with potato chip dust and aji amarillo tater tot with creme fraiche and caviar along with summer shrimp ceviche (new to the menu) and a selection of sweet treats. Guests will also sip on tea0infused cocktails and signature tipsy tea pots between savory and sweet bites for $65 per person (plus get their very own signed cookbook from Izard). Seating is limited and reservations are required. To reserve a seat, call 602.522.6655 or email tipsyteaparty@thecamby.com.
Mowry & Cotton at The Phoenician hosts its first-ever BBQ, Bourbon & Beer Feast. The third event in the 'Meet at Mowry' community dining series is set for 3:30 p.m. until 6 p.m. Saturday, April 21. Guests can mingle with other locals, visitors, brewery and distillery representatives while sampling bountiful BBQ, bourbon and beer options. In addition to cocktail selections and samples by the likes of Buffalo Trace, Basil Hayden's, Woodford Reserve and more, attendees can enjoy traditional and spring-inspired local craft brews from Four Peaks, Huss Brewing Company and the Phoenix Ale Brewery. Tickets for the BBQ, Bourbon & Beer Feast are available for $65 per person, which includes all-you-can-eat BBQ and six beverage tasting tickets. This is a 21-plus event, and seating is limited. For tickets, call 480.423.2530 or email 00103RestaurantReservations@luxurycollection.com.
Huss Brewing Co. is proud to celebrate the one-year anniversary of the Huss Brewing Co. Taproom at Uptown Plaza. From 12 to 5 p.m. on April 21, Huss invites its fans to its stylish and rustic indoor-outdoor Uptown Plaza Taproom for games, family-friendly activities, exclusive beers, special pricing, live music from Hayley Green and a collaboration with Sweet Wool's organic locally hand spun cotton candy.
Justin Beckett of Beckett's Table and Southern Rail will make his first appearance on Food Network's, competitive-cooking show, "Chopped," on Tuesday, April 24 at 7 p.m. In celebration of Chef Beckett's "Chopped" debut, Southern Rail will host a viewing party on Tuesday, April 24, from 6 to 9 p.m. Guests are invited to cheer on Chef Beckett and enjoy bites from Southern Rail's dinner and social hour menu (3 to 6 p.m.), as well as a Q&A session with Chef Beckett following the episode airing. Guests are encouraged to RSVP at the following link: https://www.facebook.com/events/1865207800165287/
True Food Kitchen has launched its spring menu, full of fresh and flavorful seasonal ingredients. Dishes include asparagus toast, miso-glazed eggplant, artichoke and pesto pizza and much more.
National Cold Brew Day is this Friday, April 20, and Press Coffee will have a "BOGO" deal at its seven Phoenix area locations. People can buy one 16- or 20-oz. cold brew and get a second of equal or lesser value for free.
To celebrate the end of tax season, Miracle Mile Deli is offering itsfamous Broadway burger and a pint of craft beer for just $13 all week long, from Monday, April 16 through Sunday, April 22.
Babbo Italian Eatery opens its Talking Stick location in Scottsdale on Thursday, April 19. All day on April 19, Babbo is donating 100 percent of profits from all eight of their Metro Phoenix locations to Phoenix Children's Hospital. In addition to raising money all day, the company will be matching it dollar-for-dollar.
On Tuesday, April 24, starting at 7 p.m., Taco Guild will be hosting a two-course dinner of new dishes paired specifically for the tequila and taste of a hand-selected Herradura Double Barrel Reposado available only to Taco Guild. A tequila specialist will be on hand to guide diners throughout the evening. There will be two specialty cocktails featuring the new tequila. The cost is $45 per person.
On Administrative Professionals Day, April 25, all admins will get a free cup of drip coffee at Over Easy. The offer is good at Over Easy locations in Gilbert, Mesa, Phoenix Biltmore, Arcadia and Paradise Valley.
Galcations, a women-focused travel agency specializing in planning and delivering worldwide travel for women, is hosting a happy hour at Rott n' Grapes Wine and Beer Bar in Uptown Phoenix, Tuesday, April 24 at 5:30 p.m. The happy hour will feature Italian wines and influenced foods to get ladies excited for the upcoming "Reflections of Italy" trip, taking place October 23 through November 1. Guests will visit Rome, Vatican City, Assisi, Perugia, Siena, Florence, Venice, Murano Island and Milan. The happy hour is $12 to attend, and includes a glass of wine and light bites. A portion of all proceeds benefits Halo Animal Rescue. To RSVP, click here.
The Horny Toad, Cave Creek's oldest and famous restaurant, will host It's an Italian Spaghetti Western on Wednesday, April 25, from 11 a.m. to 9 p.m. During the one-of-a-kind event, The Horny Toad will feature several mouth-watering Italian specials, including pasta marinara, fettuccini and spaghetti and meatballs, garlic bread, a side salad and more. In addition, westerns will be shown all day long.
For more fab foodie news, become a fan on Facebook and a follower on Instagram @AZFoothills and Twitter @AZFoothillsFood.