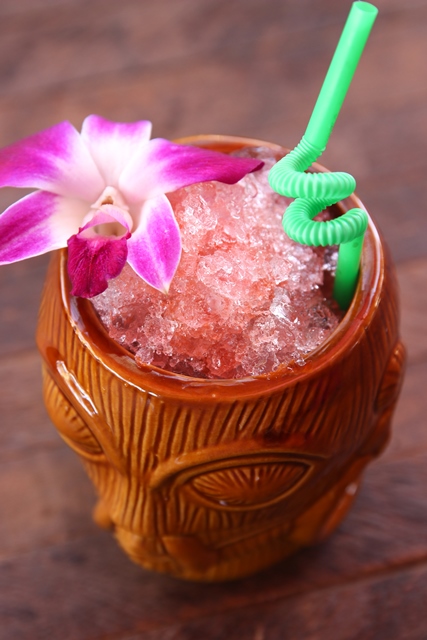 photo credit: Joanie Simon
Foodie news roundup for the week of Feb. 26.
Voila French Bistro in Scottsdale is hosting a special dinner pairing delicious French wines with signature French classics on Sunday, March 4. Guests will enjoy a three-course meal, each paired with wine, for $69 per person. Courses include La Sole et Le Crabe, Le Boeuf Bourguignon and La Tart Tatin. Reservations are required.
Every Friday from Feb. 23 to March 30, get a taste of the monthly Fish Fry special at Hopdoddy Burger Bar. The Fish Fry sandwich holds battered and fried fresh white fish, salt and vinegar chips, homemade tartar sauce, pickled onions, lettuce and tomato between two perfectly toasted buns.
Need a spring break? Every second Thursday of the month, starting March 8 beginning at 4 p.m., Market Street Kitchen hosts Tiki Thursday featuring classic and innovative Tiki cocktails (pictured) and island-inspired appetizers. Guests wearing Hawaiian shirts receive 50 percent off featured Tiki cocktails.
Grimaldi's Pizzeria launches its Fresh Cut Flavors Seasonal Menu on March 5. These limited-time selections include the refreshing Watermelon Rocket Salad, Prosciutto Arugula Pizza, Banana Cream Cheesecake, Caramel Coconut Cheesecake, new cocktails, and seasonal Italian sodas and lemonades.
Trapp Haus BBQ brings the bold flavors of award-winning BBQ to Downtown Phoenix on March 2. (The official grand opening is set to take place during Downtown Phoenix's famed First Friday, and will feature DJ Belal of Groove B. Chill, giveaways, a raffle and more.) Trapp Haus BBQ fuses slow-smoked championship-style BBQ with urban Southern cooking in a restaurant with a decidedly New York vibe. Classic platters and meat-by-the-pound options are sure to be popular.
Join in on Sunday March 4, from 3 to 5 p.m. for the first of many LDV Rhythm & Rhones on the patio at the LDV Wine Gallery in Old Town Scottsdale. Come early for the free event and enjoy a beautiful afternoon sipping on great wine and enjoying the acoustic jazz-soul sound of Allison Scull and Victor Martin. Seating is limited. Bring a group of six or more and call to reserve one of the limited tables by calling 480.664.4822.
Original ChopShop announces the opening of its sixth restaurant in The Promenade located at 16203 North Scottsdale Road on March 1. And congrats to the Original ChopShop team as the Phoenix favorite is also gearing up to take the concept national, starting with its entry into the Dallas market this April.
For more fab foodie news, become a fan on Facebook and a follower on Twitter @AZFoothillsfood.