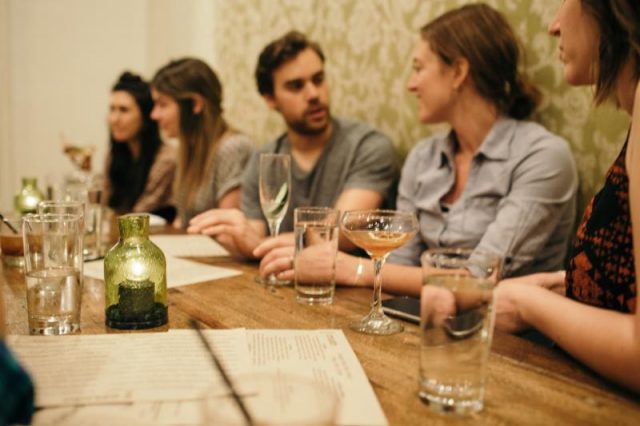 Foodie news roundup for the week of Jan. 22.
Today, Thursday, Jan. 25, Over Easy will celebrate National Irish Coffee Day but offering its iced or hot Irish Coffee for $5 at its Arcadia and Biltmore locations.
Every week, anyone who takes a photo in front of the iconic arrow sign at The Henry will be entered to win a $25 Fox Restaurant Concept gift card, and to pay it forward, The Henry will also donate $25 to St. Mary's Food Bank.  To enter, tag @TheHenryRestaurant in photos on Instagram and use #FollowTheArrow.
Sad news: Coup Des Tartes will be permanently closing its doors Jan. 31. "We are humbled by the loyalty our customers have shown us over the past 22 years. They brought spirit and life to Coup des Tartes and the sense of community created here will be greatly missed," says Proprietor Ron Pacioni in a press release.
Downtown Scottsdale's Brat Haus recently released a new menu, complete with fresh, locally-sourced ingredients and a creative spin on contemporary Euro-style fare. New eats include Rattle Snake & Rabbit sausage, Chicharron Nachos, Lamb & Goat Currywurst, several new salads and much more.
Crudo (pictured) has just launched an all-new Late Night Banh Mi Menu every Friday and Saturday night, starting at 11 p.m. Chef Cullen Campbell will be bringing wood-grilled meats, tasty tots, sandwich specials, mason jar cocktails and more to his spacious dining patio every weekend.
In honor of National Blueberry Pancake Day, Miracle Mile Deli will be offering a stack of fresh blueberry pancakes for just $6 on Saturday, Jan. 27, and Sunday, Jan. 28, from 7 to 11 a.m.
Looking for a new favorite at Shake Shack? The Griddled Chick'n Club, a griddled all-natural chicken breast with Niman Ranch smoked bacon, lettuce, tomato and buttermilk herb mayo on a potato bun, lands at Shacks nationwide (excluding airports, stadiums and ballparks) on Jan. 26 for a limited time.
The 9th Annual Grand Wine Festival, taking place on Saturday, Jan. 27, and Sunday, Jan. 28, at Heritage Square Park in Downtown Phoenix, is now expanding by 15,000 square feet with the closure of 6th Street, making it the largest Arizona wine-only event in the state. The likes of Carlson Creek Vineyard, Kief Joshua Vineyards, Dos Cabezas Winery and many more will be in attendance. To purchase tickets to the Grand Wine Festival ($15 for 6 tasting tickets or $20 for 10 tasting tickets), visit grandwinetastingfestival.azcentral.com or https://www.eventbrite.com/e/the-grand-wine-festival-awards-gala-january-2018-tickets-37988406346.
For more fab foodie news, become a fan on Facebook, and a follower on Twitter @AZFoothillsFood and Instagram @AZFoothills.