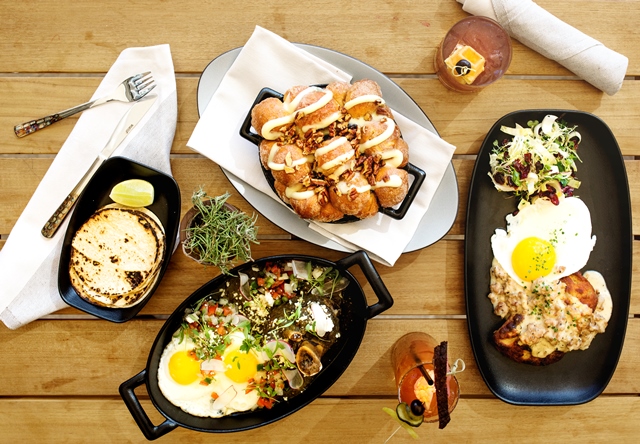 Foodie news roundup for the week of Nov. 6.
Mowry & Cotton's brand-new brunch service debuts this weekend. Starting Saturday, Nov. 11, The Phoenician's newest dining destination will offer a full-scale brunch menu from 10:30 a.m. to 2:30 p.m. every Saturday and Sunday, giving guests a morning or midday dose of Chef de Cuisine Tandy Peterson's inventive, regionally inspired American dishes. (Hello, Mowry monkey bread and Hog Breakfast Board!) Plus, the first-of-its-kind Porch Party (which is $36 per person) is a community dining experience where guests can sample Chef Tandy's 10 ingredient-driven fan favorite dishes and house specialties, from carne asada breakfast tacos to a peanut butter bar and doughnuts, in a super-relaxed setting.
The two-day Festival at the Farm at the University of Arizona in Tucson, being hosted by the Arizona Wine Growers Association, is this weekend. The event kicks off on Friday, Nov. 10, with a gala honoring Arizona wine industry founders at the University's Student Union, followed by the Festival at the campus farm on Saturday, Nov. 11 where there will be 20 Arizona wineries pouring their award-winning wines, as well as restaurants and other local purveyors. To purchase tickets to the Arizona Founders' Dinner ($125 per person) or Festival at the Farm ($15 to $20), visit here or Facebook.com/ArizonaWine.
Just in time for the holiday season, take your cocktail skills to the next level than by taking The Bar Exam at Honor Amongst Thieves. This all-new monthly cocktail class takes guests on a three-cocktail tour, learning about the history of each tasty tipple, plus sip on three cocktails each featuring a different spirit. Each Bar Exam class will highlight three spirits from vodka, gin, whisky, tequila, and more, and learn how to make unique cocktails with each. Plus, all guests will receive a recipe card to take home to replicate the drinks. Starting on Wednesday, Nov. 15, the Bar Exam will occur on the second Wednesday of every month and starts at 6 p.m. Each Bar Exam class costs $35 per person. Space is limited, so guests need to call 602.313.1001 in advance to book their table. (Additional dates include Dec. 13 and Jan. 10.)
In celebration of CRUjiente Tacos' one-year anniversary, the Phoenix taqueria will offer free pork belly street-style tacos to the first 101 customers (typically $4 on regular menu) on Nov. 11. Each pork belly Taco is handcrafted with pork belly confit, house quick kimchi, cilantro and Sriracha aioli. Additionally, guests have access to CRUjiente Tacos' specials deals on food items and drinks during happy hour, from 3 to 6 p.m. and late-night happy hour, from 9 to 11 p.m. (Deals include $2 Tecate Light and Modelo Especial, $3 Korean fried chicken taco and more.) CRUjiente Tacos will open at 3 p.m.
Pita Jungle in Tempe recently added a weekly yoga class on Sunday mornings at the restaurant. The hour-and-a-half class starts at 8 a.m., is instructed by Natalie Hewitt and costs $15 which includes fresh juice, fruit, a mimosa and 25 percent off brunch.
Now through Nov. 30, 10 percent of all proceeds from Sprinkles' Black and White Movember cupcakes will go to The Movember Foundation. Also available at Sprinkles, now through Nov. 23, is its Thanksgiving EAT Box. The box is filled with Orange Cranberry, Red Velvet, Pumpkin, and Dark Chocolate cupcakes and decorated with adorable turkeys.
Someburros offers its delish nachos (a blend of chips, refried beans, cheese, jalapeños and tomatoes) for just $2 bucks from Monday, Nov. 6, to Friday, Nov. 10, in a week-long celebration of National Nacho Day.
On Sunday, Nov. 12, at 6 p.m. "Cat" Pornsupak of Glai Baan and Bob Tam of Bitter & Twisted team up for a mind-blowing mash-up of Thai and Chinese cuisine at "The Cat and The Panda Dinner," a family-style affair hosted at the new Glai Baan restaurant. Indulge in 10 spicy, sweet and savory dishes over six courses for $44.88. Guests can also enjoy refreshing cocktails, wine, and beer at the cash bar. Tickets for this one-night-only event are now available online.
The Arizona Craft Brewers Guild will partner with Arizona's award-winning breweries to present the second-annual Arizona Brewers Ball on Saturday, Nov. 18, at Warehouse 215 in Downtown Phoenix. This year, guests are invited to dress in their best 1920's-inspired garb and head to for the prohibition-themed celebration, which will bring together more than 30 breweries from across the state from 6 to 10 p.m. Live music, food stations (dishes will include pork carnitas tacos with cotija poblano mole, braised short ribs with blue cheese firecracker corn panna cotta, grilled prawns with aged cheddar grits and heirloom tomato relish) and much more are on the agenda at the Brewers Ball. Pre-sale tickets are available for $125 per person. VIP table reservations can also be made for $2,000, which include 10 tickets, a special key to unlock a private access area, additional hors d'oeuvres and specialty beer, and prime seating for the event. Tickets can be purchased at here. Proceeds from the Brewers Ball will benefit the Arizona Craft Brewers Guild and the George Hancock Fund.
During Pizza for the Pets on Nov. 16 from 5 to 9 p.m., enjoy all the delicious Grimaldi's (Scottsdale Rd. location) pizza and salad you can eat and top it all off with cannoli for dessert. Wine and beer are included. There will also be a 50/50 raffles, a silent auction and music by Steve Howes. All proceeds support PACC911's Emergency Medical Fund. Reserve your place now with PayPal or pay at the door ($50 in advance or $60 at the door).
Set for Sunday, Nov. 12 from 9 a.m. to 6 p.m., the Arizona Harvest Fest & Farmers Market will fill Dr. AJ Chandler Park in Downtown Chandler with 100-plus merchants offering a huge selection of products and services including a farmer's market with local produce and artisan gourmet foods, holiday items, home décor and furnishings, jewelry, clothing, art, home improvements, health and wellness services and products, plus much more. The fest will also include live entertainment, a pumpkin pageant, cornhole, a pie-eating contest, a kids zone and much more, as well as a delicious brunch offerings. Admission is free.
Notre Dame Prep of Scottsdale is preparing for Culinary Festival 2017 set for Saturday, Nov. 11, from 6 to 10 p.m. on the NDP campus. Participating restaurants include Tom's Thumb Fresh Market, Fairmont at Scottsdale Princess, Bourbon Steak, Ironwood American Kitchen, Toro, The Vig, Grimaldi's Coal Brick-Oven Pizza, The Captial Grille, Mojo Yogurt, Fleming's Prime Steakhouse, The Breakfast Joynt, Jalapeño Inferno, Ciao Grazie, Nothing Bundt Cakes and S & W Urban Italian. Scottsdale Beer Company will provide beverages. Live entertainment will be provided by Elvis Before Noon. Registration is $100 in advance at ndpsaints.org/culinaryfest or $125 at the door.
The Bentley Scottsdale Polo Championships, taking place this weekend, welcomes the addition of several notable culinary elements. New to the 2017 Polo Party event is The Scottsdale Maserati Brunch with covered field-side seating and admission to both matches on Sunday. (Tickets are $80 per adult, $40 per child ages 5 to 12, and free for those under 4.) Also new is PRIME, a luxury tent experience sponsored by Neiman Marcus, Barrett-Jackson and Steak 44. Limited to 140 people mid-field, guests will be able to savor the experience with the tasty help of Steak 44. Every ticket includes a seat, with an entry price of $300, which includes all food and beverage. Front-row reserved tables for 8 are also available for $5,000 which includes a bottle of Veuve Clicquot Champagne. Another notable addition is Fried & Fizzy, a pop-up restaurant by Chef Michael DeMaria which dishes up fried chicken and Champagne. Access to Fried and Fizzy is included in general admission. Other on site food options will be provided by Cold Beers & Cheeseburgers, M Culinary, Kona Grill and The Beverly. Tickets are now on sale for all categories. Gates open Saturday at 10 a.m. and 10:45 a.m. on Sunday.  General admission starts at $25 Saturday and just $20 on Sunday. Click here for details on tickets and schedules.
Chef Marcellino Verzino of Marcellino Ristorante showed off his skills at the James Beard House in New York City on Oct. 14. The honor came as a result of a competitive selection process. To celebrate, he is giving locals who are not able to attend the dinner a chance to try the menu on Nov. 14 at his Scottsdale restaurant. The Heritage Dinner takes place at 7 p.m. for $165 plus tax and tip, per person.
Hand Cut Burgers & Chophouse in Scottsdale will celebrate its one-year anniversary this Friday, Nov. 10. The public is invited to attend the special event held from 5 to 7 p.m. There will be complimentary passed appetizers, a hosted Champagne bar and music from local DJ Thomas James. Dinner reservations are recommended but not required.
Four Peaks Brewing Co.'s head brewers collaborated with Seattle's Elysian Brewing to brew the Foreign Exchange Stout, a bold, pitch-black beer with a moderate bitterness and rich, roasty malt flavor. Now on tap at Four Peaks 8th Street Brewery and Scottsdale Grill & Tap, $1 from every pint of The Foreign Exchange Stout sold will benefit St. Mary's Food Bank, until sold out.
For more fab foodie news, become a fan on Facebook or a follower on Instagram @AZFoothills or Twitter @AZFoothillsFood.