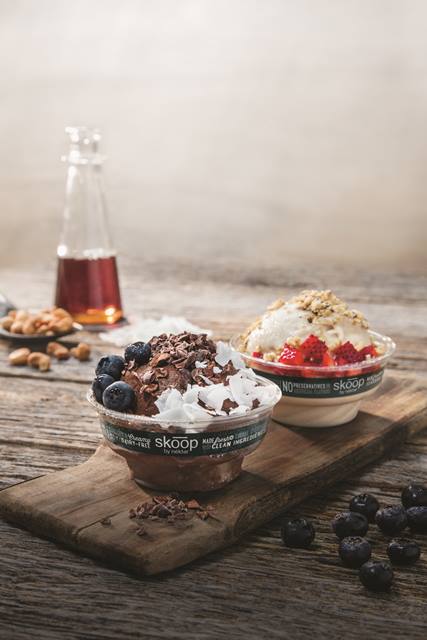 Foodie news roundup for the week of June 5.
Genuine Concepts introduced the fifth location of The Vig, opening at McDowell Mountain this summer (other locations include Arcadia, Uptown, Fillmore and McCormick Ranch). The Vig McDowell Mountain sits at the corner of Bell Road and Thompson Peak Parkway in North Scottsdale and will be a new hot spot for brunch, lunch, dinner and all-day cocktails. This location boasts spectacular views of the McDowell Mountain range, and the open floor plan is heavily inspired by the timeless design of Frank Lloyd Wright.
On the third Thursday of each month, Casablanca Rooftop Lounge in Scottsdale introduces its new Community Brew series. This first brew experience, June 15 from 7 to 9 p.m., will feature tastes from Uncle Bear's Brewery. Tickets are $10 for beer tasting or $15 for beer tasting plus a small bite. Tickets available here.
Now until June 19, AJ's Fine Foods is inviting customers to post a selfie or video of themselves enjoying their favorite AJ's iced tea, along with a description of their iced tea order, on social media in celebration of National Iced Tea Day on June 10. Customers who follow AJ's and tag #ajsicedtea to their post will be automatically entered into a drawing to win one of three "Tea for Two Gold Cards" for two free iced teas a day starting on June 21, the first day of summer, through Labor Day on Sept. 4. To increase their chances of being selected, customers can tag their friends in their post for bonus contest entries. Three winners will be randomly drawn on Monday, June 19, and announced by Wednesday, June 21.
On Saturday, June 10, Padre Murphy's will be hosting a viewing party for the 149th running of the Belmont Stakes. The off-track betting destination will be opening their doors for breakfast at 9 a.m. (served until 11:30 a.m.), followed by the first race beginning at noon, with the main event at 2 p.m., shown on all 90-plus TV's. In addition to breakfast, there will be drink specials throughout the day, including Belmont Carnations, mimosas, mint juleps and Stella Artois, followed by a cornhole tournament at 8 p.m. The tournament is free to enter and will be comprised of two-man teams with a variety of prizes up for grabs, including four lower-level tickets to an Arizona Diamondbacks game and a $100 happy hour at Padre Murphy's, among other prizes.
Nékter Juice Bar recently launched Skoop (pictured), a decadent yet guilty-and-dairy-free frozen treat. To celebrate the launch of Skoop, Nékter will host Free Skoop Night on June 9 from 6 p.m. to close, and anyone visiting at that time will receive a free Skoop with three toppings. Skoop is currently available in Chocolate Bliss and Viva Vanilla, with additional unique flavors launching later this summer, and can be found at the following locations: 92nd and Shea, Casa Paloma, Dana Park/Gilbert, Desert Ridge, Hayden Peak, Hilton Village, Indian School, Odysea, Tempe Marketplace, Town & Country and Zocallo.
Now through April 2018, 50 cents from the sale of every Salmon Pacifica Salad at participating Jason's Deli restaurants will be given to MD Anderson. Since 2013, Jason's Deli has donated more than $726,000 to the world-renowned cancer center. Created in collaboration with MD Anderson's dietitians and cancer prevention researchers, the 450-calorie salad is full of nutrient-rich ingredients.
Now through Labor Day, True Food Kitchen Biltmore invites guests to celebrate summer with a specially-priced happy hour every Monday through Friday from 3 to 6 p.m. True Food Kitchen's healthful happy hour menu features some of the restaurant's most popular dishes like the famed Tuscan Kale Salad ($7), Margherita Pizza ($8), Herb Hummus ($8), Small Farmers Market Crudité ($7) and more. Or guests can make it a TRUE TRIO by selecting any three dishes from the happy hour menu for $20. The summer happy hour is also brimming with beverages like the Citrus Skinny Margarita ($7) and a selection of organic Red, White and Rosé wines for $5 or buy the bottle for $18.
U.S. Egg is teaming up with Arizona Helping Hands (AHH) to host a pajama drive for foster children. AHH is the largest organization in Arizona that provides beds and cribs, clothing and toiletries to more than 17,000 children in foster care. Beginning Thursday, June 1, through Friday, June 30, people can drop off new children's pajamas, of all sizes, at any of the six U.S. Egg locations throughout the Valley.
Celebrate International Sushi Day early with half off all food at Sushi Roku in Scottsdale on Thursday, June 15. (Technically, International Sushi Day is on Sunday, June 18, but Sushi Roku is rolling out a one-night-only dining deal a few days early.)
Now through Labor Day weekend, when the temperature reaches over 105 degrees, Moscow mules and margaritas will be half price at Valley Thirsty Lion locations.
Press Coffee Roasters will open the doors to its newest location at Central and McDowell on Thursday, June 8 and will be serving free small drip coffee to guests for three days to celebrate (June 8-10).
National Falafel Day is Monday, June 12, and Pita Jungle is celebrating by giving everyone a free falafel ball with a purchase of any entrée.
Marcellino Ristorante has introduced its highly anticipated Summer Supper. The restaurant will offer a special menu every day from June 5 through Sept. 10. For just $35, diners receive an appetizer, entree and dessert, including options like caprese salad, salmon, house-made biscotti and more.
For more fab foodie news, become a fan on Facebook and a follower on Twitter @AZFoothillsfood and Instagram @AZFoothills.