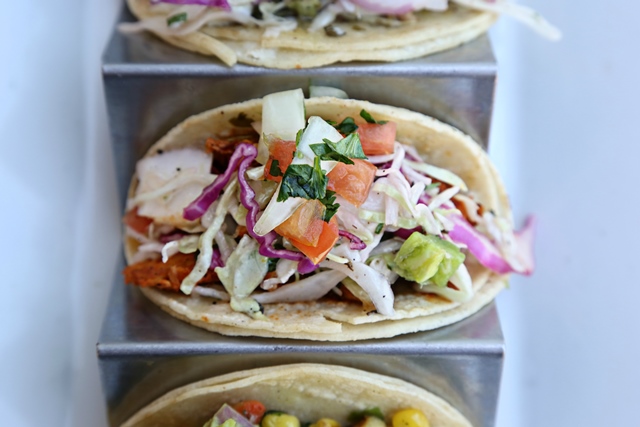 Foodie news roundup for the week of June 20.
Starting in July, Modern Grove will give customers new options for healthy, fast and casual food for breakfast, lunch and dinner at its two locations in Phoenix and Mesa. A few of those menu items include a quinoa breakfast burrito, superfood salad with kale, cauliflower and quinoa tabbouleh, and a harissa grilled chicken sandwich with fig jam, arugula and sliced apples.
Macayo's Mexican Kitchen is making Tuesdays special with $2 individual tacos and tostadas. Guests can enjoy smaller versions of Macayo's bold flavored steak, green chile pork, chicken, chicken tinga (pictured) and veggie tacos or tostadas on Tuesdays served at the bar and on the patio–all day.
Zappone's Italian Bistro has announced it summer specials. Monday and Tuesday: $5.99 spaghetti and meatball with house salad, dine-in only; Wine Wednesday: all bottles of wine, all day are 50 percent off; Pizza Thursday: all pizzas, all day are 50 percent off, dine-in only; happy hour; 3 to 6 p.m. daily, $5 food specials, $4 wine and well drink specials, $3 beers.
Normally served every Monday evening, to celebrate National Fried Chicken Day, TEXAZ Grill is offering a special for dinner on Wednesday, July 6 (after 4 p.m.). Featuring a half of their famous Southern Fried Chicken, plus salad, potatoes and hoe cakes for only $14, be sure to get there early, as this special regularly sells out.
On July 9 and July 10, Tanzy Restaurant will be offering a free meal for kids during Scottsdale Quarter's one-of-a-kind kitten adoption event. This rare deal will be offered from 10 a.m. to 5 p.m. on both days. The Arizona Animal Welfare League, the state's oldest and largest no-kill shelter, is running the pop-up event. Adoption fees will be $100 for one kitten, and $150 for two kittens. Rescuing a kitten will provide a positive life change for the kitten and your family.
Cowboys Saloon: American Bar & Grill on High Street in North Phoenix is doing "Free Burger Thursdays" through Thursday, July 7. From 3 to 10 p.m., get a free burger with the purchase of any full-price drink.
vomFASS Scottsdale is hosting a BBQ Sauce Open House on July 2. From noon to 5 p.m. (with margarita tastings from 12;30 to 3:30 p.m.) enjoy a free recipe demo and barbecue sauce tastings.
For more fab foodie news, become a fan on Facebook and a follower on Twitter @AZFoothillsfood and Instagram @AZFoothills.