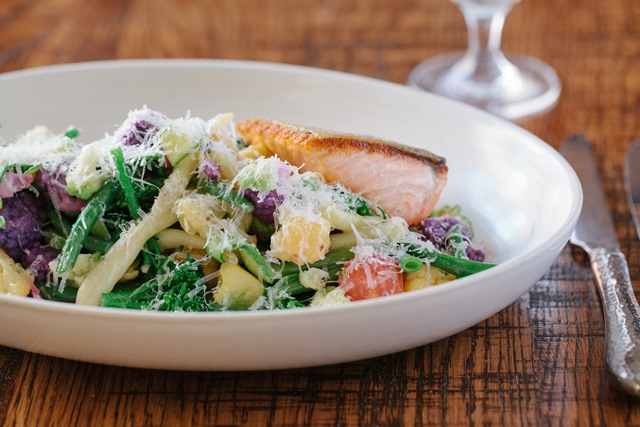 Foodie news for the week of Sept. 29.
For National Taco Day Oct. 4, stop by Loco Patron for an all-day fiesta featuring live music, build-your-own tacos starting at $1 each and a taco-eating contest with a hefty cash prize.
In anticipation of the new Stingray Sushi coming to Ahwatukee/Chandler this October, the owners are hosting a three-day job fair at the restaurant (900 N. 54th St., Chandler, AZ 85226). Hosted on Oct. 7 through 9 from 10 a.m. to 4 p.m., hospitality heroes and kitchen superstars are invited to interview in person at the restaurant.
Celebrate, honor and pay tribute to firefighters at the 2014 Scottsdale Firefighters Charities Dinner held at Dominick's Steakhouse in the Scottsdale Quarter on Sunday, Oct. 5. Sponsored by the Scottsdale Firefighters Association and attended by the Scottsdale Mayor, city council members, and supporters, the annual dinner recognizes outstanding Scottsdale firefighters, names a firefighter of the year, and also raises money for more than a dozen Valley charities: Boys and Girls Club, Scottsdale Prevention Institute, Scottsdale Gateway Alliance, Scottsdale Foothills Animal Rescue, City of Scottsdale Youth Deployment, and the Susan G. Komen Breast Cancer 3-Day Walk. The evening kicks off at 5 p.m. with cocktails in the rooftop poolside dining room of Dominick's Steakhouse. Guests will then enjoy a sit-down dinner of prime steaks, seafood and assorted sides in the main dining room starting at 6 p.m. To purchase a ticket, or become a sponsor contact Chad Masciotra at Cmasciotra@iafflocal3878.org or call 480.510.6955.
On Tuesday, Oct. 7, Fired Pie will be giving away one free pizza or salad (per person) at their newest location in Ahwatukee. This is for dine-in only. The fast casual restaurant is giving out the free entrees from 11:30 a.m. to 6 p.m. (at this specific location) in honor of the opening of their seventh restaurant. The newest location is at 4905 E. Ray Road, Suite #104 in Phoenix.
Tonight, National Bank of Arizona (NB|AZ) is excited to host its eighth annual Taste of the Biltmore event from 6 to 9 p.m. As the kick-off to the social season, this event will bring together the best of the Biltmore community and offer unlimited food and wine tastings from more than 20 top local restaurants. Tickets are available for purchase for $60 each at the door.
Yesterday, the latest Postino WineCafé location, Postino Annex opened in Tempe inside a revamped former art studio just steps away from the ASU campus. Open daily for lunch and dinner with brunch every weekend, at Postino Annex guests will savor a compact yet craveable menu of bruschettas, from-scratch soups, fresh salads and hearty panini sandwiches – all made with the finest local ingredients. Plus, every Saturday and Sunday (9 a.m. to 1 p.m.) Postino serves up farm-fresh brunch fare with a side of live music and $5 mimosas. Not to mention, Postino's ever-changing selection of boutique wines and craft beers, including 16 beers on tap and two dedicated nitro taps. Enjoy signature specials such as $5 Before 5 p.m., offered everyday on all wines by the glass and draft beer pitchers, and $20 Bottle & Board on Monday and Tuesday evenings.
Chili's is proud to support the Leukemia Lymphoma Society in a Light the Night Give Back Event. For each flyer presented on Monday, Oct. 6, Chili's will donate 10 percent of the day's sales back to The Leukemia Lymphoma Society. (This is a Valley-wide event.)
T. Cook's (pictured) at Royal Palms Resort and Spa, A Destination Hotel launched Power Lunch Hour Oct. 1, a thoughtful and ingredient-driven prix-fixe lunch menu, all in under an hour. The new $24 prix-fixe menu includes a starter and main entrée. The Power Lunch Hour menu, which is available Monday through Friday, offers a fresh and local twist on traditional lunch favorites, with an array of light bites to hearty options that are perfect for a quick lunch or luncheon meeting. In addition to these new items, T. Cook's will also serve up complimentary macaroons to end the meal with a sweet treat. Guests are guaranteed a one-hour lunch and complimentary valet with car-side service upon departure between the hours of 11 a.m. and 2 p.m.
Union Barrelhouse celebrates their official grand opening to the public with a special event on Thursday, Oct. 9 beginning at 7 p.m.! Guests will enjoy a red carpet entrance, complimentary valet parking, food and drink specials, live music, grab bag giveaways, vintage cars on property, free cab rides from Z Trip and an old-fashioned keg tapping event by the Mayor of Scottsdale. In addition, raffles will be offered all evening long with chances to win a brewery tour, gift cards, beach cruisers, the Old Town party bus and more.
Palette at the Phoenix Art Museum will be hosting a dine and dance event on Oct. 3, from 6 to 8 p.m. Dance to live music while indulging in everything from beer-braised short ribs, to pan-seared salmon, delicious fruits and vegetables and dessert. $35 per person.
The first 100 people at Salty Senorita in Scottsdale will receive one free taco (limit one person) on Oct. 4, National Taco Day.
For more fab foodie news, become a fan on Facebook, follow us on Twitter @AZFoothillsFood and check us out on Pinterest and Instagram.