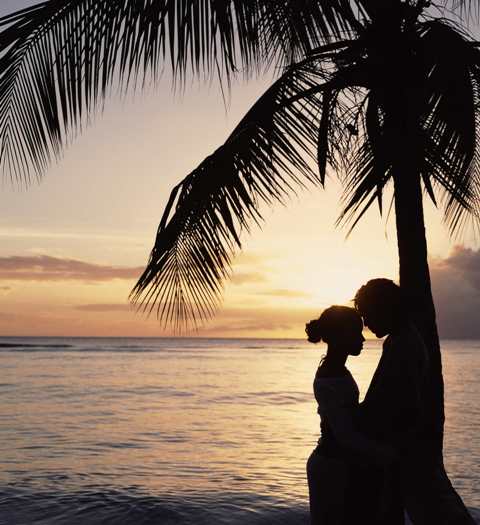 Last week, Fleming's Prime Steakhouse & Wine Bar debuted a new spring-tastic prix fixe menu, offering Valley diners a taste of the Caribbean. The special menu is available through June 20.
Fleming's guests will have a choice of one of three entrées (listed below) and the option of butter lettuce salad or beach house garden soup and one side dish. For dessert, a tropical-inspired pineapple tart with vanilla ice cream and caramel sauce. To take the guesswork out of the dining experience, Director of Wine Marian Jansen op de Haar provides suggested wine pairings for each course.
Steak Caribe: Jerk rubbed hanger-style steak, parsley-garlic sauce and red onion salsa
Suggested wine pairing: Rutherford Ranch, Cabernet Sauvignon Napa Valley, 2006
Kingston Banks Roast Chicken: Half spring chicken marinated in coconut milk and island ginger, roasted tropical sweet potatoes and plantation bacon
Suggested wine pairing: Solaire by Robert Mondavi, Chardonnay Sta. Lucia Highlands, 2006
Salmon Citron: Broiled salmon steak marinated in citrus-pepper garlic sauce, black bean cassoulet (recipe below)
Suggested wine pairing: MacMurray, Pinot Noir Sonoma Coast, 2006
Fleming's spring prix fixe menu is $35.95 per person, tax and gratuity not included. Scottsdale: 6333 N. Scottsdale Rd., 480.596.8265; DC Ranch: 20753 N. Pima Rd., 480.538.8000; Chandler: 905 N. 54th St., 480.940.1900; Peoria: 9712 W. Northern Ave., 623.772.9463. www.flemingssteakhouse.com.
Salmon Citron
10 oz. Salmon steak, with skin and bones
½ tsp. Salt and pepper blend
½ Lemon
1 tsp. Italian parsley, chopped
1 oz. Charmoula (recipe below)
Season salmon with salt and pepper blend then broil to the desired temperature. Remove from the broiler and let rest for two minutes. With a cocktail fork, carefully remove the back bone starting at the saddle and back bone and all rib bones. Place the salmon steak on plate. Spoon the charmoula on top of the salmon steak. Cut the lemon crosswise at a 45 -degree angle and place cut side on top of broiler to lightly caramelize.
Charmoula
1 oz. Red bell pepper one-inch long by 1/8-inch wide julienne
1 oz. Roma tomato, 1/8-inch wide julienne
1 Habernaro pepper, 1/8-inch wide julienne
1 oz. Red onion 1/8-inch wide julienne
1 T Lime juice
1 tsp. Lime zest
1/2 C Extra virgin olive oil
1/2 tsp. Garlic, minced
1/4 tsp. Chipotle chili powder
1 tsp. Kosher salt
1 tsp. Black pepper, café grind
2 T Cilantro, 1/8-inch, diced
Seed and stem both peppers then cut into one-inch long by 1/8-inch wide julienne and place into a mixing bowl. Cut the red onion and tomato into a one-long by 1/8-inch wide julienne and add to the peppers. Zest and juice lime and add to pepper mixture with olive oil, black pepper, Kosher salt, chipotle chili powder, minced garlic and the cilantro cut into 1/8-inch dice, mix well then place into a container.