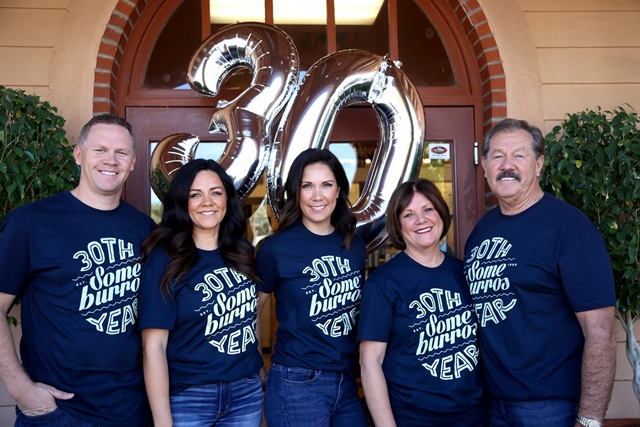 Members of the Vasquez family gather at the original 1986 Someburros location in Tempe.
In celebration of 30 years in the Valley, Someburros is dishing up deals Monday, Oct. 24, to Friday, Oct. 28, for its loyal patrons. The week of deals is capped with a 30th anniversary fiesta on the 29th. (Plus, Someburros is still expanding, with its eighth location opening in Queen Creek.) Check it out:
Monday, Oct. 24 – $6 Pollo Fundido
Perhaps Someburros most iconic dish, the Pollo Fundido has been a fan favorite since day one, featuring marinated chicken wrapped in a flour tortilla, then deep fried and topped with jalapeño cream cheese. (Regularly $8.50)
Tuesday, Oct. 25 – $2 Taco Tuesday
Introduced as part of the 30th year, Someburros year-long $2 #TacoTuesday deal is in full swing with slashed prices on shredded beef, shredded chicken and ground beef and potato tacos all day. (Regularly $2.95)
Wednesday, Oct. 26 – $1 Margs
Stop in Wednesday for $1 frozen strawberry or lime margaritas. (Regularly $4.50, limit two per person)
Thursday, Oct. 27 – #TBT $2.50 Bean & Cheese Burros
#ThrowbackThursday! Get a taste of prices past by scoring a $2.50 bean and cheese burro – the first item ever sold at Someburros! (Regularly $3.50)
Friday, Oct. 28 – Free Churro Friday!
Order any Someburros specialty or combo and get a free churro to satisfy the sweet tooth. (Regularly $1.25)
Saturday, Oct.29 – Someburros 30th Fiesta!
Stop in and celebrate Someburros official 30th anniversary at all locations! Free dessert, gift card giveaways, piñatas and more are in store throughout the day, plus live Mariachi band entertainment from 6 to 8 p.m. at all locations. (Free dessert while supplies last)