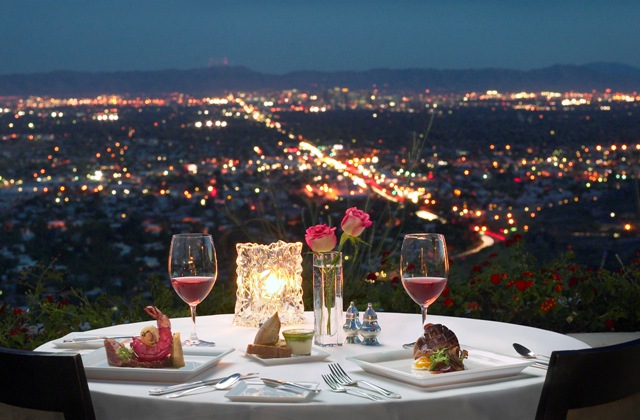 On Sept. 28, Different Pointe of View, of Phoenix's Pointe Hilton Tapatio Cliffs Resort, will host one of its incredible and intimate (only 12 RSVPs will be accepted) winemaker dinners. The guest of honor is Sonoma County's Alexander Valley Vineyards. Chef Anthony DeMuro of Different Pointe of View shares how he went about choosing the courses to go along with the Alexander Valley wines, as well as some tips that to keep in mind while preparing for your next dinner party.
Reception Wine: Alexander Valley Vineyards Chardonnay
Chardonnay can be tricky to pair with food. Sweetness in any aspect of a dish can result in having the wine come across as sour. We are having the reception outside on the stunning patio so the cool, crisp Alexander Valley Chardonnay, which has hints of apple, pear and citrus, will be very refreshing and a great way to kick off the evening at sunset.
Alexander Valley Vineyards Pinor Noir served with seared coriander crusted ahi
The Alexander Valley Vineyard's Pinot Noir has good structure and black cherry notes. To complement that, I added some boost to the seared tuna with the coriander so it can stand up to the intensity of the wine.
Alexander Valley Vineyards "Homestead" blend served with cherry wood-smoked venison tenderloin
The finely balanced Homestead Blend is met with a classic game combination of smoked venison and dried cherry. The creaminess of the Maytag blue cheese and roasted crimini mushroom risotto served with this course will emphasize the lush, jam-like qualities of the wine while the Maytag blue cheese adds a spike of contrast.
Alexander Valley Vineyards Cabernet Sauvignon served with port-braised Wagyu short ribs
The tannins of this superb cabernet sauvignon are nicely smoothed out by the natural sodium inherent in the prized Wagyu beef and the crispy pancetta side. The truffle emulsion of the dish enhances the creaminess of the short rib and will round out the cabernet nicely.
The dinner is available for $99 per person. To make a reservation, call 602.866.6350.