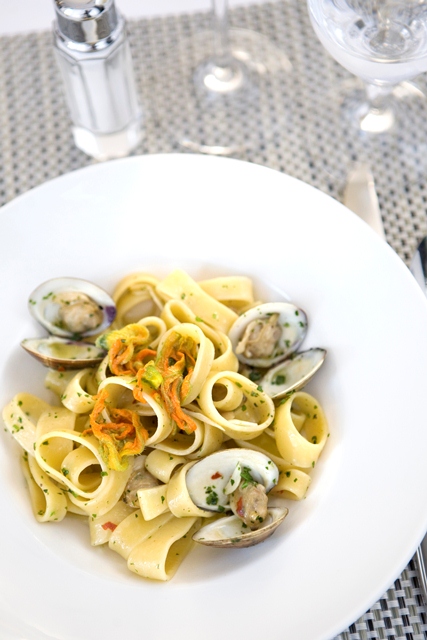 The very first BiCE Ristorante opened in Manhattan in 1987, and was a favorite spot of celebrities and the everyday joe, alike, who craved top-notch Italian fare. Come Dec. 31, BiCE will open a restaurant in the Valley, a two-story spot at The Citadel shopping plaza in North Scottsdale.
The BiCE menu will be under the direction of Executive Chef and Milan native, Davide Negri–and BiCE veteran General Manager Bernardo Nolfo. It will feature well-loved Italian classic eats partnered with in-season, local ingredients. A few menu items to get you excited for the wintertime opening: veal milanase topped with arugula and heirloom tomatoes; housemade ravioli stuffed with braised rabbit, kale and Mediterranean olives in a creamy leak-thyme sauce; or seared "mano de leon" scallops with crispy vegetable strings, saffron sauce and squid ink dressing. Another BiCE standout is its Salumi e Formaggi station, which features mouthwatering meats and cheeses from the Old World, as well as its extensive wine listing.
The warm and welcoming atmosphere at Scottsdale's BiCE is accented by European decor. (Perhaps you'll be transported to Milan, 1926 when Beatrice "Bice" Ruggeri opened her first restaurant, BiCE's Kitchen?) The relaxing second-floor BiCE Bar & Lounge even offers a primo outdoor patio, capped off with city and mountain views.
To ring in the new year, BiCE will celebrate it's Grand Opening on New Year's Eve, Dec. 31. There will be three seatings, three creative menus and three price points. To reserve your spot, call 480.421.2423. www.biceaz.com.
For more fab foodie news, follow us on Twitter @AZFoothillsfood, become a fan on Facebook and check us out on Pinterest.