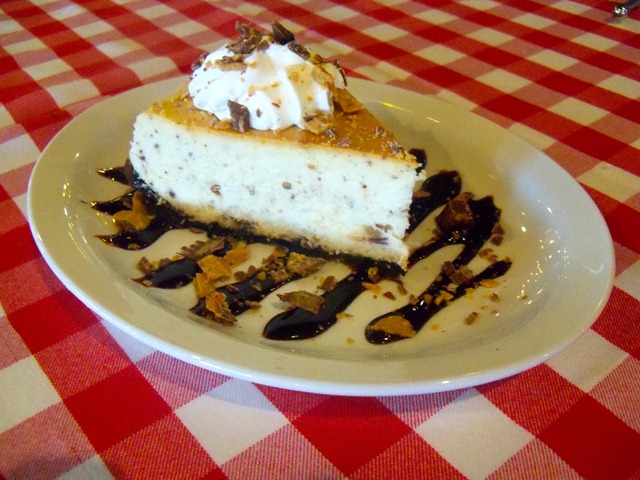 As we approach Valentine's Day, it is hard to think about anything but chocolate, cheesecake and other tasty desserts. Grimaldi's Pizzeria must have received the memo because, through Feb. 28, the Valley's Grimaldi's restaurants are dishing up two limited time desserts–plus a tasty new pizza.
Bruschetta Pizza: Grimaldi's famous white pizza topped with diced Roma tomatoes, chopped basil and grated parmesan. Try drizzling it with balsamic vinegar and oil, for a spectacular burst of flavor.
Bailey's Irish Cream Cheesecake: Rich and smooth Bailey's Irish Cream cheesecake, in an Oreo cookie crust and topped with whipped cream.
Reese's Peanut Butter Cup Cheesecake: Creamy vanilla cheesecake sprinkled with chunks of Reese's Peanut Butter Cups and topped with whipped cream.
Grimaldi's Pizzeria is located at San Tan Village in Gilbert, Old Town Scottsdale, North Scottsdale, Scottsdale Quarter, Peoria and two Chandler outposts.
Plus, in celebration of 10 Years in the Valley on Feb. 24, Grimaldi's Pizzeria will celebrate with an birthday party benefiting Phoenix Children's Hospital at its Old Town Scottsdale location. A meal of your choice will be offered, with all of the proceeds going to Phoenix Children's Hospital. Featured activities include local celebrities serving guests, a World Champion dough-thrower, a Frank Sinatra impersonator and more exciting surprises. Scottsdale Mayor Jim Lane will even be declaring Feb. 24 as "Grimaldi's Pizzeria Day." The event is $50 per person and takes place from 5:30 to 9 p.m.
For more fab foodie news, follow us on Twitter @AZFoothillsFood, become a fan on Facebook and check us out on Pinterest.