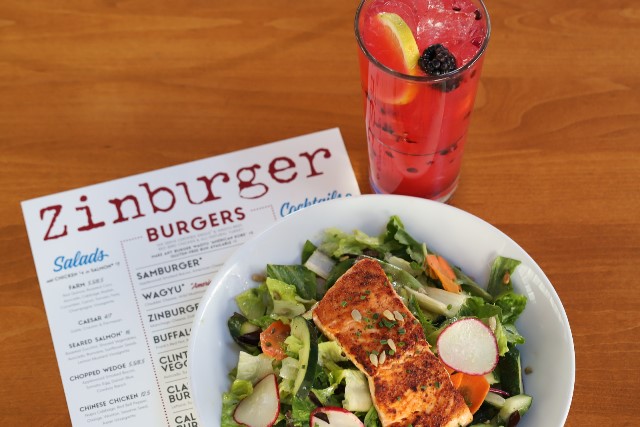 Attention all Fox Restaurant Concepts enthusiasts: your favorite local burger joint, Zinburger, just dropped new menu items and they are delish…but is that really a surprise?
To add to every customer's already difficult decision of choosing what to eat, the Zin team added a handful of new mouthwatering options. Of course, this means there is a new burger in the mix. The new wagyu burger is prepared with American Kobe beef, layered with cheddar cheese, wild mushroom, caramelized onion, lettuce and mayo. The juicy, finger-licking-good burger makes even lunchtime seem like a decadent outing.
Two favorites among the other additions are the light, yet filling seared salmon salad (perfect for summer), which is tossed with roasted zucchini, shaved vegetables, avocado, romaine, sunflower seeds and lemon-mustard vinaigrette, and the California burger bowl, made with avocado, griddled sweet potato, roasted mushrooms, caramelized onion, zucchini and tamari. The contrast between the sweet, sweet potato and the salty and uber-flavorful patty makes for a very distinct and yummy combination for your taste buds (it also takes away the guilt of eating a burger because there is no bun!).
To complete the experience, be sure to order either of the new crowd-favorite cocktails, the Long Tall Lemonade made with pressed blackberries, vodka, lemon and elderflower, or the Yuzu & Lime Margarita, a spin on the classic with smashed lime, ginger liqueur, yuzo sour and blanco tequila.
Greeted by a spunky vibe, excellent customer service and superbly savory bites, Zinburger has long been a burger lover's paradise–but these fresh additions make it a spot you'll want to revisit soon. –Lauren Grifol