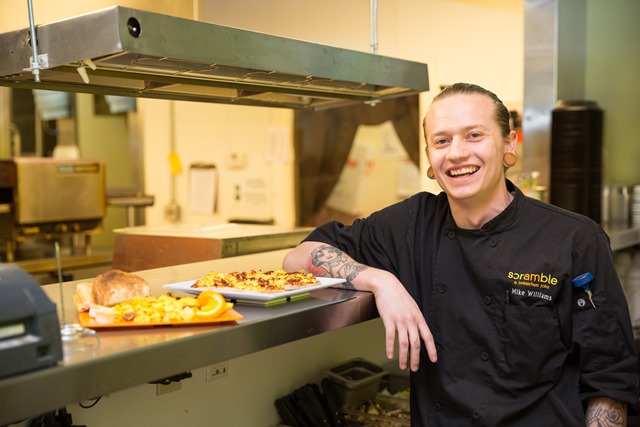 Scramble – A Breakfast & Lunch Joint's Scottsdale location is continuing its "Think Global — Eat Local" Junior Edition for 2018.
The 2018 series, which kicks off next month, features quarterly cooking classes for youths ages 6 to 16 from 6 to 7:30 p.m. on March 14, as well as in June, September and December (dates TBD). Each session will feature a vendor spotlight on the farm or producer supplying the main ingredients for each of the classes.
The cost is $25 per class. Youths will learn chef skills and cooking techniques, they get to eat what they've cooked, and they take home a goodie bag with Scramble water bottles, aprons, samples, coupons and more. Executive Chef Mike Williams (pictured) at Scramble Scottsdale will teach the hands-on classes; youths must be accompanied by an adult.
2018 "Think Global — Eat Local" Junior Edition:
MARCH 14: Cooking with eggs featuring Hickman's Family Farms
JUNE: Cooking with vegetables (local vendor TBD)
SEPTEMBER: Cooking with bread (local vendor TBD)
DECEMBER: Cooking with fruit (local vendor TBD)
For more details and to register, visit www.azscramble.com