They say three time's a charm, so naturally, we like to think three tee times is just as charming. Spread across the open plains just off the Strip in Las Vegas stands Golf Summerlin, a golf haven for those seeking the best greens in Vegas. With warm days ahead and a flurry of Spring Training spectators flocking to the Valley, it will be nice to escape the traffic and regain serenity with a round of golf ( or two, or three).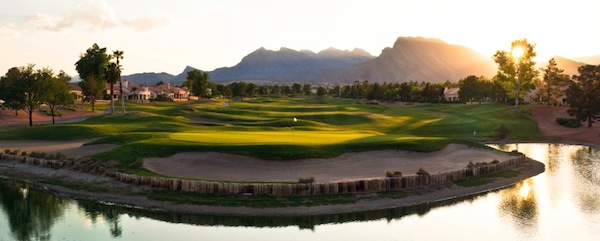 As a part of Sun City Summerlin community, Golf Summerlin boasts three separate courses designed by Hall of famer Billy Casper and Greg Nash for a trifecta of golf experiences for players of all skill levels. Whether you seek a full-spectrum round on a challenging par-72 layout or a quick 18 on a well-designed executive course, Golf Summerlin satisfies the golf appetite. And if you're just want to join a long for a ride, the courses make it easy to tag along with your golf buddies even if you're not taking a swing.
Sun City Summerlin is equally impressive. Set at the foot of Spring Mountain Range at 3,000 feet elevation, the community offers outdoor and indoor pools with spas, 14 tennis courts, 2 paddle tennis courts, craft rooms, card rooms, social halls, a 312-seat theater, exercise rooms with the latest hydraulic exercise equipment, 8 bocce ball courts, 1 racquetball court, miniature golf course and a softball diamond. Now you can bask in Sin City without regret or remorse.
To learn more, visit www.golfsummerlin.com