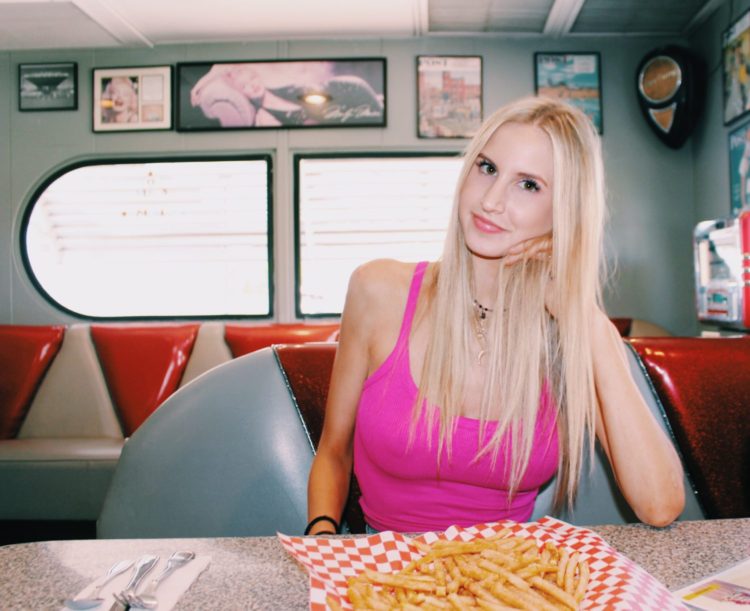 Name: Ava Ryan
Age: 19
Title: Arizona State University student
Married/Single: single!!!
Kids: no way
City you live in: Tempe, AZ
A typical day in my life includes…
well my body alarm is at legit 5 AM so I wake up, wash my face, do a face mask, make coffee, make breakfast, and sometimes workout…all before class even starts lol. I am a total morning person! Then I walk/skip to class, do homework while eating a bag of hot Cheetos, and mob around Tempe.
I was born…
to be wild!
My favorite thing about Arizona…
I loveeee the sun. It makes me so, so happy. Also anything Sam Fox creates, Camelback mountain, Mexican food, In-N-Out, Scottsdale Quarter, and how everyone seems to know each other?
I'm listening to…
older music. Specifically classic rock & roll, I'm a total old soul.
My family…
is so supportive. No matter what I do they always support me. They probably would describe me as extremely witty; I have the driest sense of humor.
If I could have dinner with anyone, it would be…
Steven Tyler at Nobu or Mike Myers but only if he talked like Austin Powers the whole time.
One thing I cannot live without…
Sriracha!!!!! Holy balls, Sriracha.
When I was younger, I wanted to be…
Sandy from the movie Grease.
I'm inspired by…
Carrie Bradshaw from Sex in the City. The girls a total go-getter, independent, has amazing style and is witty as hell. I also love Lisa Vanderpump.
The one person who motivates me is…
my big brother Patrick. He's currently teaching abroad in Spain and he always has the best insight and advice on the world.
If I could change anything in the world, it would be…
the fact that Chic-Fil-A is closed on Sunday's.
The perfect day would be…
guest judging on American Idol with the original panel of judges and just absolutely ripping apart all the bad singers ahhaha! Also my perfect day would include a hot dog and an order of chicken wings with ranch.
My first job was…
at a boutique.
My favorite escape…
is running with music turned up all the way. Also turning off my phone or putting it away when I'm with my friends.
My life…
is amazing! I still have a lot to learn and explore though, I want to travel as much as I can.
I'm currently working on…
good skin care, organizing my messy life, and I'm a business major at Arizona State University so that too.
Always…
running around finding stuff to do. I love to thrift shop!
Never…
getting a pedicure again. I'm way too ticklish it's not even enjoyable.
Favorite Quote…
"Imperfection is beauty, madness is genius and it's better to be absolutely ridiculous than absolutely boring" -Marilyn Monroe.
Biggest Dream…
is to time travel.
My Pet Peeve(s)…
slow walkers!!!!! Parking lots in general. And when my car is too hot to touch the steering wheel without getting third degree burns.