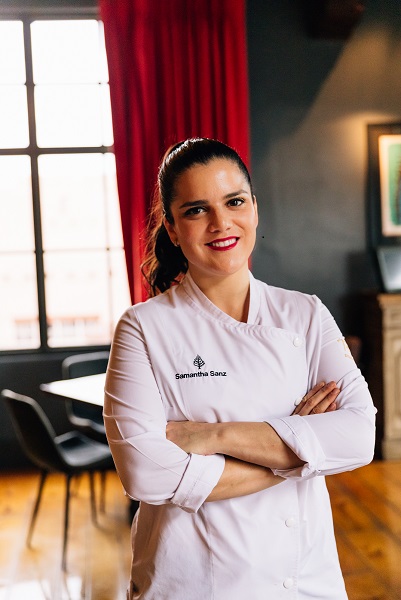 Name: Samantha Sanz
Age: 30
Title: Chef de Cuisine at Talavera
Married/Single: boyfriend whose name is Rene Andrade
Kids: Boston Terrier puppy named Massimo
City you live in: Scottsdale
A typical day in my life includes…
lots of coffee and creativity.
I was born…
in Nogales, AZ.
My favorite thing about Arizona…
the dreamy Sonoran Desert and its beautiful sunsets.
I'm listening to…
JBalvin and Little Dragon.
My family…
lives in Nogales and they own a restaurant called Trocadero that has been open for 64 years. I have two siblings; one lives in Portland Oregon and the other in Dallas Texas.
If I could have dinner with anyone, it would be…
my grandfather that I did not get to meet or Nancy Silverton.
One thing I cannot live without…
olive oil.
When I was younger, I wanted to be…
a Veterinarian, and then realized that I loved food more than anything. So then, I wanted to be a pastry chef because I would spend a lot of time baking. However, I ended up becoming a savory chef instead.
I am inspired by…
art of all shapes and forms.
The one person who motivates me is…
my grandmother, she is 98 and doing better than anybody does, she is a powerhouse who taught me that women are capable of running a business no matter what.
If I could change anything in the world, it would be…
peace for everybody.
The perfect day would be…
a day spent with my friends and family with plenty of good food and wine without any itinerary or place to be.
My first job was…
a summer of cooking wholesome meals for my father that had high cholesterol when I was 10 years old.
My favorite escape…
Oaxaca, Mexico.
My life…
has been and is blessed by having my family and friends that support me. It is a constant learning curve with struggles, challenges and triumphs. It has been exciting with all the traveling I have been able to do. A colorful and fun story of a young woman with a lot of goals, ideas and dreams.
I'm currently working on…
new menus for the 2020 season and new exciting projects that will involve charity.
Always…
believe in yourself.
Never…
give up on your dreams.
Favorite Quote…
be fearless in the pursuit of what sets your soul on fire.
Biggest Dream…
to have my own restaurant and hospitality business.
My Pet Peeve(s)…
this applies in the kitchen but it drives me insane. Slamming pots or sauté pans on the bus tubs. My team can agree on that, I go crazy if the sauté pan makes any noise.