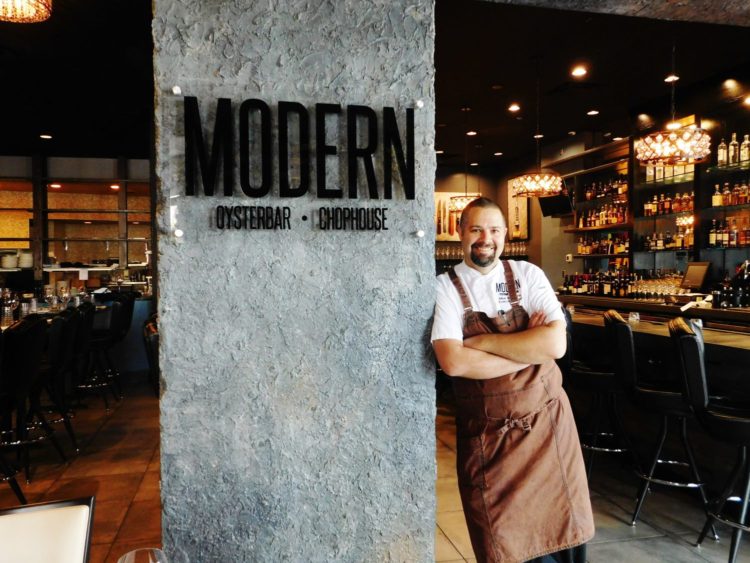 Name: Mike Bouwens                    
Age: 44
Title: Executive Chef at MODERN OYSTERBAR CHOPHOUSE
Married/Single: Married
Kids: Three of the most awesome in the world and the four-legged kid, Tango.
City you live in: Scottsdale
A typical day in my life includes…
waking up and taking Tango for his morning stretch and a cup of coffee. After that getting to the restaurant before anyone else (I like my morning quiet time) as this gives me time to go through everything without interruptions. The day continues with some butchering and playing with food, orders and paperwork. The hustle starts when the cooks show up and things get going. I finish the day with another Tango walk and some time with my favorite person, Lynda, when she gets off work.
I was born…
in Grande Junction, Colorado.
My favorite thing about Arizona…
getting out and hiking. There are so many different places and climates to see.
I'm listening to…
the voices in my head, but also the Steeldrivers and some other fine bluegrass—throw in a little punk rock as well.
My family…
is the best. I wish I could spend more time with them.
If I could have dinner with anyone, it would be…
my grandfather. He was a great man and one of my inspirations.
One thing I cannot live without…
coffee.
When I was younger, I wanted to be…
Professional Slacker and Snowboarder.
I'm inspired by…
creating new dishes and other influences in my life. Thank you Chef Dave at Zinc Bistro.
The one person who motivates me is…
Lynda, she has so much energy and is a big driver for me.
If I could change anything in the world, it would be…
how the rest of the world perceives our great nation.
The perfect day would be…
waking up, getting a good hike in and then just chilling with my dog and maybe grilling with some whiskey.
My first job was…
a busser in Casper, WY at Armors Silver Fox Lounge (thank you Bernard for being an inspiration to cook and make wise choices in life).
My favorite escape…
getting out in the desert and exploring. Maybe some long range target shooting.
My life…
is good.
I'm currently working on…
playing around with some dry aging. I am also working on some good slow braising. I love old school techniques.
Always…
show up on time and ready to give 110%.
Never…
give up or quit learning.
Favorite Quote…
I can't say it, this is a family magazine.
Biggest Dream…
to retire a happy person with my love Lynda.
My Pet Peeve(s)…
people who work dirty!