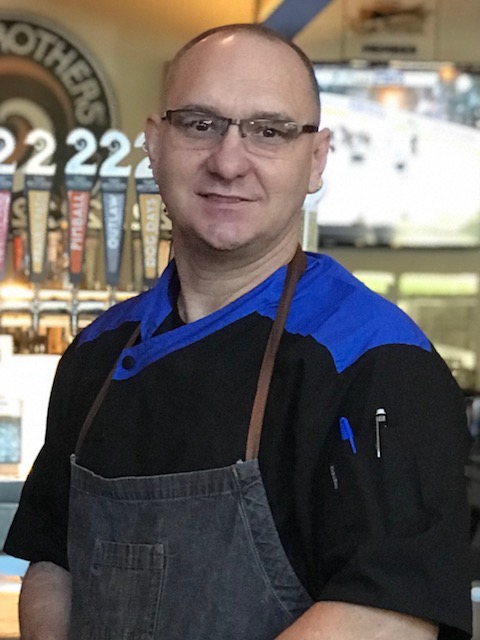 Name: Donald L. Stansell II
Age: 48
Title: Executive Chef at Two Brothers Tap House & Brewery Scottsdale
Married/Single: married to my beautiful wife of 15 years this year.
Kids: one daughter who is the love of my life.
City you live in: Maricopa
A typical day in my life includes…
spending time with family and friends, BBQ'n on the patio and playing my drums in my home studio.
I was born…
in San Diego, California.
My favorite thing about Arizona…
it's close to everything I grew up with: San Diego, the Coastal regions of Napa Valley and the Central Coast of California.
I'm listening to…
heavy metal since I was a teenager.
My family…
is my driving force that keeps me focused and on point with my life's goals – the most wonderful gift a man could ever ask for.
If I could have dinner with anyone, it would be…
Gordon Ramsey & Michael Simon Iron Chef's. A first-hand experience from the Masters of Ala Cuisine would be life changing.
One thing I cannot live without…
my family who supports and loves me for all my imperfections.
When I was younger, I wanted to be…
a pilot or a chiropractor. After taking flight lessons it became too expensive so I served in the Military for six years and received my degree.
I'm inspired by…
the results we produce as a team. Knowing that as a group or individually we never fail, we only produce results. I'm inspired by producing winning results!
The one person who motivates me is…
my dad and best friend.
If I could change anything in the world, it would be…
to change suffering and war among cultures that paves the way for our future generations.
The perfect day would be…
sitting on a kelp bed in the North Pacific, halibut fishing while drinking beer.
My first job was…
working as a framer building houses and fabrication welding in an assembly line.
My favorite escape…
is going into my home studio, strapping on a pair of headphones and jamming the drum kit with friends to some live music rehearsal. It's a total outside experience to push your mind in a musical direction.
My life…
when I'm in balance with the universe.
I'm currently working on…
long term plans and menu revisions for my kitchen.
Always…
have a backup plan and stick to it.
Never…
take people for granted and their abilities to succeed. Most people have an enormous amount of potential; it's my goal to give them the tools they need to succeed. If they do, we all win.
Favorite Quote…
"If it once had LIFE in it, treat it right the first time"…when you do, your food will always taste amazing!
Biggest Dream…
having a hurricane proof bar and grill south of the equator on the beach, serving up exceptional beach seafood.
My Pet Peeve(s)…
mediocrity has always been a hot topic for me in that most jobs you do are worth doing well the first time.
More about Don…
Chef Don has over 22 years of culinary experience while working in Hotels, Resort Casino's and Country Clubs, such as the Cherokee Nation Hard Rock Hotel & Casino, Double Tree Resort by Hilton Worldwide, Cherokee Yacht Club, Southern Hills Country Club, and Lone Butte Casino. His journey began as a Saucier in the US Navy, cooking for foreign dignitaries, ambassadors and on base galley operations. Chef Don fulfilled his passion for cooking by attending Le Cordon Bleu in Pasadena, California shortly after getting out of the military. After working for Cherokee Nation Gaming, he spent three years training under CMC Certified Master Chef Fritz Gitschner in a private Golf and Country Club out of Tulsa Oklahoma as a Sous Chef. Recently, Chef Don comes to Two Brothers Tap House & Brewery from The Double Tree Resort Scottsdale, as Executive Sous Chef, in charge of, Asadero Concina + Cantina, and Made Market Café.
Chef Don has a natural gift for developing unique menu items based off his international experiences throughout his travels in the US and abroad. His everyday inspiration stems from traveling around the globe – three times to be exact. Visiting nine countries over a short amount of time has helped him develop a taste for international food. On the weekends, you can typically find him eating street food from various countries including Thailand, Guam, Italy,
Greece and Spain.
Joining the Two Brothers Tap House & Brewery team, he has strong ideas for what he wants to bring to the menu, however, he is keeping it a secret for now. Being a family-owned business, Stansell is most excited to bring a variety of world flavors to the restaurant. His go-to ingredient is Ahi Amarillo peppers, as he loves the flavors of South American, Peruvian foods and how the spice really opens up the palate. Having a vast amount of experience with various types of cuisines allows him to bring unconventional and out-of-the-box ideas to the Two Brothers Tap
House & Brewery menu.
Chef Stansell is originally from Ventura, California but currently resides in Maricopa with his wife and daughter. When he gets time away from the kitchen he enjoys vacationing, hiking, fishing and most of all, playing his drums in his mancave at home.