Everyone deserves at least one space in their home that is designed to the nines. It is even better if that room can double as a retreat from the day, from the kids or even from the world. Creating a balanced life is easier when the lines between hectic and calm standout.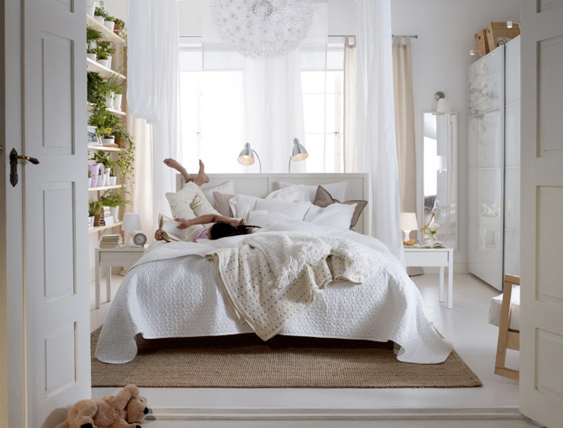 A bedroom should be a sanctuary with all the comforts and luxuries of a five-star resort to help rejuvenate and restore the mind and body. However, as homeowners cling to their pocketbooks in this economy, creating a relaxing home space has gone by the wayside. Leave it to Ikea to fix that. Making home design fun and affordable, Ikea offers tips on how to create a budget-conscious yet inspired living space.
Americans may be tightening their belts, but they don't want to give up certain luxuries. The bedroom should be a comfortable sanctuary that can relax and rejuvenate. IKEA has useful tips and advice for creating a bedroom that combines luxury and affordability.
Set the mood
The right lighting can help create an air of luxury for less. Install dimmers on existing lighting or use scented candles for an easy way to set a soothing mood. *Remember: Never leave a burning candle unattended.
Tactile textiles
Textiles create a luxurious feeling in the bedroom. Plush rugs feel great and make chilly floors feel warmer. Use sheers to fashion a billowy canopy using two curtain rods. A colorful 100% cotton duvet cover brightens up the bedroom and feels wonderful against the skin.
Snuggle up
Few things feel as luxurious as a cozy down comforter. Look for one that provides the right warmth level. If allergies are an issue, try down alternatives. New materials like modal and lyocell wick moisture from the body for sleeping comfort.
Pillow talk
Adding pillows of various shapes and sizes is an inexpensive way to help bring a luxurious look and feel to the bedroom. Consider mixing and matching different types of pillows including round, bolster and European square.
Touch of glitz
Little items mean a lot. Small, pretty mirrors, photo frames and simple yet elegant vases add a bit of opulence. Try clustering small items or collections in one area rather than scattering them to avoid a cluttered feeling.
To learn more, visit www.ikea.com.