There is nothing like having a bunch of people over for the holidays, to make you rethink the décor and look of your home. If there is one room in the home that people will remember most, it's the bathroom and the impression it makes (second the kitchen, of course).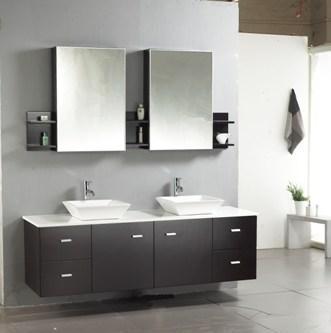 Home Design Outlet Center is releasing new and exciting designs for their existing range of modern bathroom vanities.The product catalog of Home Design Outlet Center has been growing and growing. The Company initial started out with a few classic products. Within a few short months, many new products have been added to the existing product mix. New products include all facets of the bathroom – shower rooms, shower panels, stone tiles, whirlpools, double vanities, modern vanities, faucets, and mosaics.
Shower Rooms
A shower room provides a quick and comfortable warm shower without wetting the floor of the entire bathroom. The room contains a sophisticated shower system that helps to save energy and water. The higher end shower rooms even come with whirlpool tubs and steam units. These systems can be easily integrated with any modern apartment.
Natural Stone Tiles
There are over 30 Travertine designs to choose from. For ease of browsing, these natural tiles have been categorized into several different collections. The latest collections include the Ivory Travertine Collection, the Noce Travertine Collection, and the Scabos Travertine Collection. Each offers different design characteristics.
The Ivory collection has a more subtle design. Ivory honed tiles look smooth and classy on the surface. They are most suitable for creating a luxurious appearance. The Noce collection is slightly bolder in terms of patterns. The grains are not as subtle when compared to Ivory tiles. This collection is best suited for a contemporary design. The Scabos collection has a very even blend of patterns. Bold patches are very rare on a Scabos tile.
Whirlpools and Jetted Tubs
Whirlpools and Jetted tubs have been gaining popularity in recent months. After a long day at work, homeowners can look forward to enjoying a relaxing bath in a whirlpool tub. The jets in the tubs generate streams of bubbles, which have a healing effect on the body. This leaves the homeowner recharged and ready to deal with the remainder of the day with renewed vigor. They come in a variety of shapes and sizes, and can be easily fitted into any bathroom.
Double Vanities
A single bathroom vanity just isn't enough if two people want to use the bathroom at the same time. During the morning rush, a double vanity can help save time. Contrary to popular belief, double vanities do not take up a lot of space. Many modern designs are built to appear inconspicuous. The mirrors are thin and lie flat against the wall. And for some designs, the cabinets have no legs, thus creating the illusion that there is more space.
Shower Panels
The traditional shower system just isn't good enough. Shower panels can provide additional features that a traditional system cannot offer. A shower panel manages the water pressure, and helps to spread the water more evenly for a quicker, cleaner shower. It can even provide a body massage. Shower panels are available in many different designs. They are shaped differently, and are built with different materials. They are most suitable for an urban dweller who is looking for a contemporary design.
To learn more, visit www.homedesignoutletcenter.com.