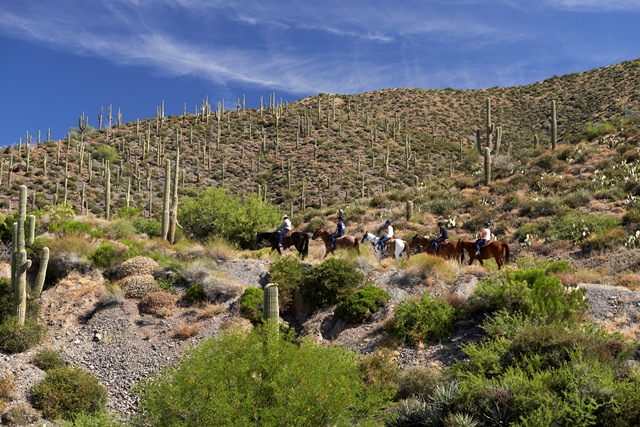 At Desert Mountain, the secret to a happy life is not only living together, but also giving together.
Desert Mountain is the original respite from the heat island known as the Valley of the Sun. Its reputation as an exclusive enclave of beautiful homes, scenic vistas, world-class golf and other amenities is well known and envied. But what is not as understood is Desert Mountain's unwavering commitment to community support and volunteerism, which in turn, improves its residents' well being.
"As a two-time cancer survivor, I had a special connection to this place when I discovered the residents' passion for impacting their surrounding community," says Desert Mountain Club CEO Damon DiOrio.
Desert Mountain residents know that happiness is directly related to how they spend their money and their time: and over the past several years they have found the secret elixir: supporting their community and spending time with each other. "So often exclusive enclaves like this tend to be insular, but the people who live at Desert Mountain truly find ways to lead purposeful lives by connecting to each other and benefiting the greater good, and we're all better for it," DiOrio says.
The residents of the community have a great bond, solidified by friendships that have formed over a mutual desire to benefit their surrounding community. This includes raising significant amounts of money for cancer research, helping older or physically challenged neighbors, preserving the legacy of veterans and providing scholarship assistance for the hard-working staff that takes care of the 8,000-acre Desert Mountain community.
Numerous studies have proven that giving is truly more gratifying than receiving: one memorable study from 2008 published in the journal Science found that what matters most is not how much money we have, but rather, what we do with it. Spending on others, it shows, can boost our own happiness.
The scholarship support from the Desert Mountain Community Foundation is a testament to the joy created from helping Desert Mountain employees and their dependents achieve their educational goals. Since the inception of the Foundation, more than $160,000 has been awarded to students.
"When I receive an email that there are (scholarship) applications available for review I honestly get excited!" says Desert Mountain member K.R. "I'm reminded with each application how much dedication and hard work is required to complete a degree or certificate program and have such admiration for the individuals investing in their future. I read each application at least twice and always feel some connection to each applicant."
Another interesting data point that resonates with residents at Desert Mountain was more recent research from the University of Chicago's National Opinion Research Center (NORC), finding that those with five or more close friends are 50 percent more likely to describe themselves as "very happy" than those with smaller circles, and the people who live at Desert Mountain are a very happy bunch, stemming from their mutual commitment to support cancer research.
Twenty years ago a group of Desert Mountain members came together to create CARE (Cancer Awareness Research Education), raising money through golf tournaments, "Olympics" and myriad other fundraisers, as well as planned giving campaigns. While the "fun raisers" are great for building friendships and networking,  the financial rewards of the events benefit innovative cancer research projects at HonorHealth and Mayo Clinic of Arizona. Since the group came together, cancer research, detection and treatment has advanced by leaps and bounds and donors to CARE have been along for the ride. To date, CARE has contributed $6.3 million to research efforts, playing a meaningful role in medical advancements.
Desert Mountain Member Judi Edwards is one of several residents who have been helped firsthand by the community's support of cancer research, when three of her immediate family members enrolled in the Pancreatic Early Detection Study at HonorHealth.
"The dollars from CARE help support this study, and I'm grateful that my children and their children can take proactive measures in the battle against all cancer," she says.
In addition to scholarships and cancer, Desert Mountain members support the Veterans Heritage Project, an organization dedicated to connecting U.S. Veterans with students; Foothills Caring Corps, which helps seniors and physically challenged neighbors with daily tasks; and the annual Golf Fore Charity Pro-Am and Scramble to benefit Phoenix Children's Hospital, St. Vincent de Paul and the Knights of Columbus charities.
The residents of Desert Mountain area  true testament to the assertion that money can buy happiness, if the money is spent the right way! –Sara Fleury