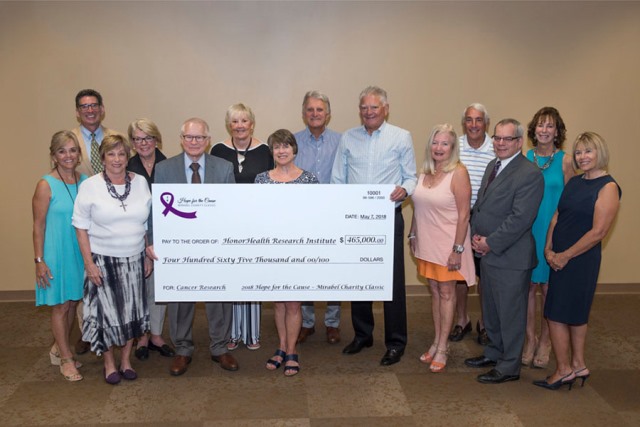 On Monday, May 7, members of The Mirabel Club gathered at HonorHealth to present a check to the HonorHealth Research Institute (HHRI) for $465,000.  Funds were raised through the Club's annual charity classic, Hope for the Cause.  In its first 10 years, Hope for the Cause donated more than $2.5 million to the Research Institute in support of cancer research.
What began as a Ladies' Golf outing in 2009 has grown to include men's and ladies' golf, a 5K, and a final reception with Silent and Live Auctions and dinner.  In more recent years, the event weeks are preceded by an afternoon of presentations from the chief researchers at the HonorHealth Research Institute during the M4 Hour – Mirabel's Miracles of Modern Medicine.  Incredibly what was cutting edge only a few years ago is "standard practice" today, and today's new developments weren't even a dream a few short years ago.
More importantly, 10 years ago the progress for many HHRI patients was measured in weeks, perhaps months.  Today, many patients are celebrating additional birthdays … many of them!  Hence the theme of this year's Hope for the Cause … Happy Birthday to the Cause and to the many patients that are living longer as a result of the good work at HHRI and the funding that The Mirabel Club has raised.
Mirabel Club members and their guests have generously committed to the Cause over the years because they've seen that the partnership with HHRI is delivering real results:
The number and types of available Phase I and II Clinical Trials have increased dramatically across many cancer diagnoses.
Expedited FDA approval has been obtained for new drug therapies.
And, most importantly, survival rates are increasing.
Clearly, Mirabel is not solely responsible for these advancements.  However, as Daniel VonHoff, MD and Chief Scientific Officer for HHRI, has said, "Caring people made this possible … Thankfully, with the extraordinary generosity from the community, individuals, as well as other organizations who have joined in this quest, we can now intercept and hopefully, ultimately end cancer."  The Mirabel Club is proud to be able to participate in these efforts.