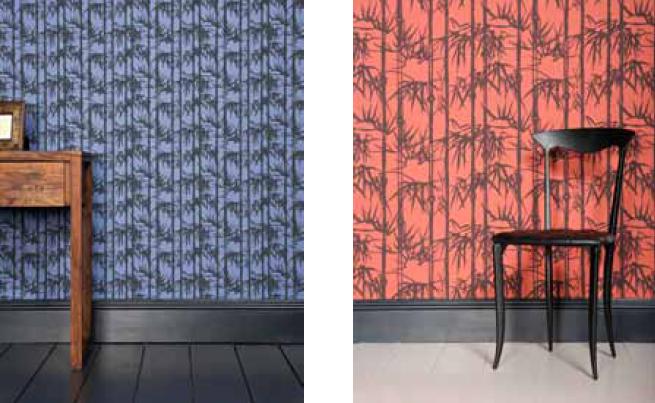 It seems to me that the wallpaper trend is not gone, but has changed. Metallics and bold patterns have been traded for more natural colors and textures, such as this magnificent Bamboo wallpaper, available from Farrow & Ball, starting this month. My guest bedroom is begging for it:
Farrow & Ball, colour experts and manufacturers of traditional paints and wallpapers, has taken inspiration from the Orient for its latest block printed wallpaper collection, 'The Bamboo Papers'.
Featuring an exotic pattern adapted from an iconic 19th century Japanese print, the Farrow & Ball
collection gives a fresh new look to the enduringly popular and timeless bamboo design, which has long
been considered a symbol of good fortune within Asian culture.
Inspired by nature, and featuring the organic shapes of soft leaves juxtaposed with upright bamboo stalks,
the two-colour print is available in thirty exquisite colour combinations and in two pattern sizes.
The range of time honoured Farrow & Ball colours available in this collection ensures that in whichever
setting the paper is used, whether traditional or contemporary, there is a combination to suit every taste.
The collection includes a choice of colourways including muted grey and yellow-based neutrals, soft pastels, earthy greens, browns and greys, cool blues and shimmering metallics. A small selection of bold and graphic combinations, using black on top of crisp white, intense red or dark blue grounds, give a more theatrical look.
Combining both sizes in a scheme reflects the current trend for working with scale for striking decorative effect.
'The Bamboo Papers' has the signature depth of colour and delicacy of appearance of all Farrow & Ball
wallpapers, which are made using real Farrow & Ball zero* VOC (Volatile Organic Compounds ) paints.
'The Bamboo Papers' are available from September 2009.
'The Bamboo Papers' $215, roll size 10 metres by 53cm (11 yards by 21 inches). Pattern repeat 40.3cm/16˝
(large) and 20.2cm/8˝ (small). All Farrow & Ball wallpapers are wipeable and stain resistant.
*as tested to US Environmental Protection Agency standards.