As someone who has been fixing for a redesign, I seem to be bound by my efforts. The more I research, the more I realize there are various style that appeal to me and the more indecisive I become. I think I may have found a saving grace without having to splurge on all those costly interior designer fees.
Dwell on Design is a popular expo that takes place in various cities each year. Hosted by the well-read Dwell Magazine, this year's Dwell on Design will be held at the Los Angeles Convention Center from Friday, June 26 through Sunday, June 28.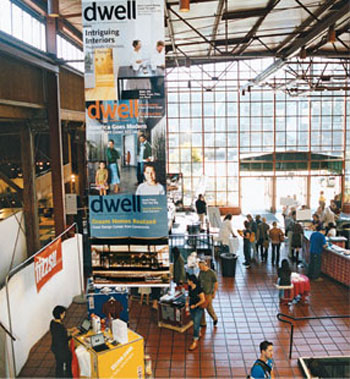 The three-day design fest with modern design at its core will also be the premise for a design conference and home tours. Patrons can also purchase products for the home form the Dwell Store located within the expo. For this year's event, Dwell also announced a partnership with the American Institute of Architects Los Angeles Chapter. The L.A. Chapter's annual event MOBIUS LA will be held concurrently with Dwell on Design at the L.A. Convention Center. The L.A. Chapter's 2009 Restaurant Design Awards ceremony will take place at the expo on Friday June 26.
Several design experts will be on hand to man the separate entities of the expo and there will be a number of presentations including one from this year's keynote speaker,  Daniel Pink, the New York Times Best Selling Author and innovation expert.
A popular component of the convention is Dwell Outdoor, an exhibition that spans more than 15,000 sq. feet and highlights trends for modern outdoor living, modern outdoor furnishings, landscape architecture and new products that consumers can implement into their own designs.
As a part of Dwell on Design, attendees can also purchase tickets to a self-guided/driven tour of posh L.A. area residences. Partnering with the Los Angeles Times, Dwell has secured numerous homes that will be available for walk through on Saturday and Sunday of the expo. Visitors can set their own pace and follow a provided map/guide to gain inspiration from some of Southern California's most modern abodes.
Certain events of the weekend are open to the trade only, meaning the selected presentations are for professional designer's eye only. Various levels of tickets may be purchased for the week, each allowing a different amount of access. To go straight to the ticket info page, click here.
To learn more, visit www.dwellondesign.com.