Love. I just LOVE this table, and I want one right now.
The Circular Table is the work of design duo Craig Bassam and Scott Fellows and it epitomizes modern simplicity and true craftsmanship. Made from both wood and leather, this table is both functional and certianly a conversation piece.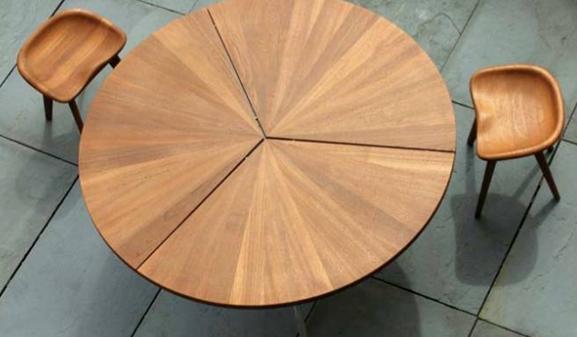 Designed for durability and elegance, the Circular Table addresses the need for a sophisticated indoor/outdoor table. Constructed according to BassamFellows' core value of "beauty without elaboration or novelty," the simple base is made of hand-finished, solid brass. The three legs support the tabletop and create the illusion of a floating surface. The top is composed of solid wood sections cut into wedges and joined to form a perfect circle.
Santos rosewood $15,100
Teak $14,800
Walnut $14,100
Ash $13,400
It can be purchased through contacting the  sales team at 212.421.3300 or visiting the showroom located at 625 Madison Avenue, suite 218, New York, NY.