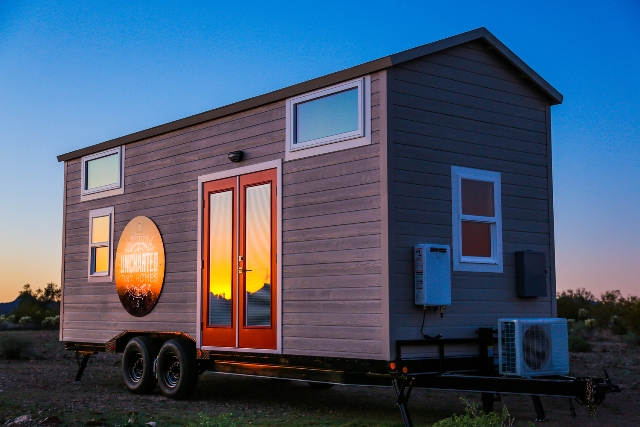 With the Maricopa County Home & Garden Show coming up next month, we got the lowdown on the tiny homes trend from Mike and Mary Beth Partanna of Phoenix's Uncharted Tiny Homes.
What can we expect from the 2019 Tiny Homes Street of Dreams at the Maricopa County Home & Garden Show?
The 2019 Tiny Home Street of Dreams is going to be huge! It's the best place to check out different tiny home designs along with the quality that the different builders bring to the table.
What are the newest trends in tiny homes?
We have always tried to incorporate "real" house quality and features like tiled showers and full-sized sinks and bathtubs in our tiny homes. Lately, things have been stepped up a notch by adding some luxury features like fireplaces and exterior stone siding.
What makes Arizona a good market for tiny homes? What about challenges for tiny homes in Arizona?
Arizona is a great place to own a tiny home because of the ability to incorporate the outdoor lifestyle that Arizona is known for. What's better is, when the summer comes, your tiny home can be easily moved up north where the weather is more favorable. Alternatively, we think there are two big challenges in owning a tiny home in Arizona. One being the fact that there aren't any tiny home communities yet so people are forced into staying in RV parks or on a lot where an RV is allowed to be parked which can be hard to find. The other challenge, which is really across the country, is financing. There aren't any tiny home-specific loans available to people that would love to live in a tiny home but don't have the cash available to build one.
Who is the ideal candidate for a tiny home?
The short answer would be anyone and everyone! The ideal candidate for full time living in a tiny home would be anyone who wants to simplify their life and get out of the rat-race that comes with owning a residential home. Another great way to use the tiny home would be to use it as an RV and travel to see all of the great things this country has to offer.
What are the pros and cons of tiny-home living?
There are a lot of different opinions on this but, for us, a huge pro would be that you can pick up and move whenever you want. Also, living on your own terms and not having the maintenance that comes with a residential house is a big appeal for people. Some cons would be having to downsize your life along with the possibility of feeling a little claustrophobic living in such a small space.
What is on the horizon for tiny-home living in 2019?
Tiny homes are here to stay, and the appeal is only going to continue to grow along with the variety of tiny homes available. Who knows, maybe we'll even see a community pop up somewhere!