Now this is a playhouse…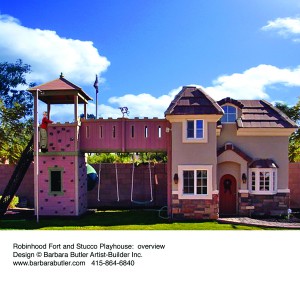 A true Renaissance woman dedicated to fun and adventure, Barbara Butler has combined childhood fantasies with architectural know-how to create a world of enchantment right in your own backyard. Her luxury play structures are for the young and young at heart, and have attracted the attention of scores of celebrity clients like Robert Redford, Will Smith & Jada Pinket-Smith, Kevin Kline & Phoebe Cates, Bobby McFerrin, and Walt Disney Productions.
Barbara hand-designs and crafts her incredibly elaborate play structures for children combining childhood fantasies with architectural know-how to create a world of enchantment right in your own backyard. The structures range from small, cozy cabins to large play forts complete with monkey bars, rope swings, bridges – anything the imagination can dream up. Barbara uses sustainable woods, reusable materials and non-toxic paints designed to make the structures long-lasting and eco-friendly.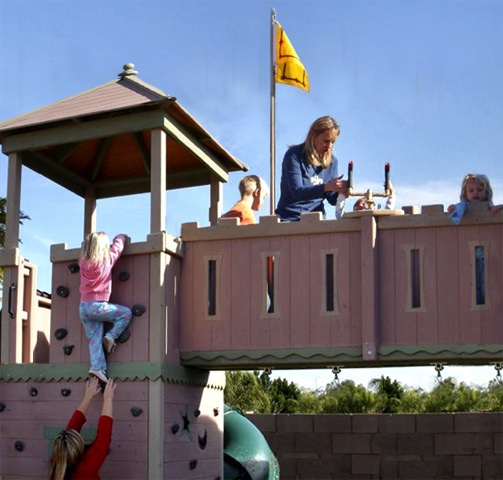 A Political Science major from the State University of New York, Barbara proved she wasn't afraid to get her hands dirty when she learned bricklaying and construction with her brothers during summer breaks. Perhaps it was her graduate school studies of English Literature, full of romantic Elizabethan cottages and idyllic country escapes that paved the way for her visionary future. In 1983 Barbara moved to San Francisco and founded Outer Space Designs, designing and building unique decks, hot tubs and surrounds.
Her current career started in 1987 when singer Bobby McFerrin and his wife requested a play structure for their two children. This first play structure was the start of a new career for Butler, who today, designs and builds custom play structures around the world.
A Butler playhouse includes meticulous attention to detail, specifically designed for kids. Secret hiding places, escape doors, carvings and climbing opportunities. All of which make a fantastic combination of physical and imaginative play for kids of all ages. All structures and pre-designed standards are built modularly in her shop, disassembled, delivered and reassembled on site. Butler presently employs 13 "Play Professionals" including her husband, brothers and niece in her playhouse and furniture building business.
Her strustures have become famous on their own: Butler's Rough & Tumble Outpost play structure was highlighted as the FAO Schwartz "Ultimate Gift" in the 1999 Christmas Catalog. A playhouse created by Butler was also used in the Robin Williams movie Bicentennial Man. Butler's designs have been featured on Oprah, HGTV and House Beautiful TV.
See her work and how you can buy one of these luxury playhouses at www.barbarabutler.com. Prices range from around $5,000 to nearly $100,000.