It is known in my close circle of friends that I love lounging. I'd rather sit in a slouched position on the sofa than a perfectly proper posture any day. In order to support this habit, a chaise is really the only respectable and stylish option. It allows you to lounge without seeming disrespectful to company because that is what it's built for. Who are we to question the purpose of the chaise?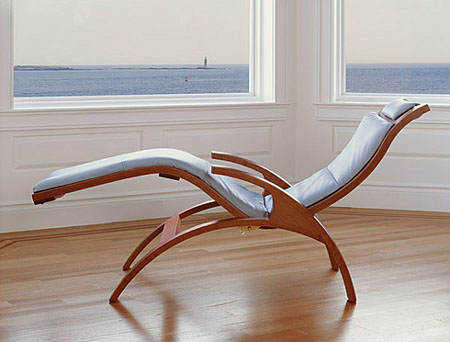 Thos. Moser, the celebrated Auburn, ME-based designers and manufacturers of intricate wood furniture, have taken the chaise to the next level. The company's 100 men and women in their workshop fashion designs out of only the most optimal materials. In Thos. Moser's case, American Black Cherry trees from 75 to 125 years mature do the trick.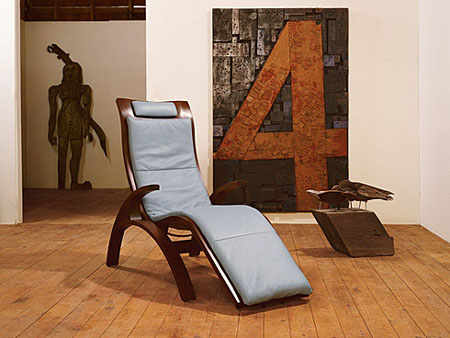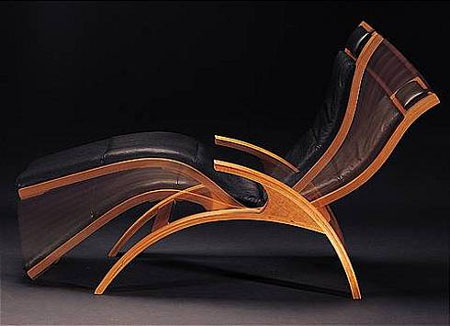 One of Thos. Moser's signature pieces, the Chaise, takes its inspiration from the European modernist movement of the 1920s and 1930s.   With its beautiful sinuous design, this piece will provide comfortable lounge seating and make a strong design statement in any interior setting.
The design replaces the era's tubular steel with the warmth the warmth of natural cherry and mortise-and-tenon joinery. The graceful frame supports a webbed back, upholstered in full-grain leather. A removable headrest provides additional comfort, if desired. The two-position Chaise reclines fully without any handles or gadgets; simply lean back and let gravity do the rest.  That level of comfort does come at a price though ($3,775.00). 
To see the entire collection of handcrafted lounge seating, upholstered chairs, dining tables and chairs, stools, beds, case pieces and more, visit www.thosmoser.com. The site also provides great insight via video clips that highlight designer David Moser's design inspirations for particular pieces. The clips allow appreciators of fine design a more personal peek at the selections they desire to incorporate into their own homes.
-Nichole Brophy