By Melissa Larsen
MOST MOTIVATIONAL INSTAGRAM: Donjay, @donjay
Local photographer, musician and early Instagram adopter, Donjay, founded @InstagramAZ in 2001 as a way for Arizona-based photography enthusiasts to connect. He is inspired by photography from around the world and believes he has an "Insta-friend" to meet up with wherever he happens to find himself. He shares primarily nature-based photos, landscapes and people interacting with landscapes. "If my photo can elicit wonder or awe or whimsy for a second or two while someone is viewing it, that's a very rewarding feeling."
AFM FAVE! BEST FASHION FEED ON INSTAGRAM: Caitlin Lindquist, @caitlinclairexo
Arizonan Caitlin Lindquist's fashion blog, Dash of Darling, impresses her 97,000 Instagram followers with her gorgeous travels, must-have items and accessories, and her playful and unique looks. Fans can see even more of this former law-grad turned digital darling on her popular site, thedashofdarling.com.
BEST FASHION FEED ON INSTAGRAM: Karolina Bakanovas, @karolina_b
Karolina Bakanovas' love for sharing information led her to start Sunkissed Way, a life and style blog focused on finding a lifestyle that's within reach. (Think everyday life, plus products worth checking out and fashion you can afford). She has close to 1,600 followers who can expect a daily glimpse into her life including plenty of palm trees, a dose of motivation, outfit ideas and favorite Valley spots.
BEST BRANDED INSTAGRAM: THE MARRY MART, @THEMARRYMART
The pros at The Marry Mart understand the importance of creativity and individuality in today's wedding world, so the team uses social media to showcase the best local small-business wedding pros to its nearly 3,000 followers. The goal of this bridal marketplace is to build local relationships to keep the creative wedding market in Phoenix pumping, help local talent gain a larger clientele and more.
BEST FOOD FEED ON INSTAGRAM: Christina Barrueta, @writeonrubee
Local award-winning food writer, Christina Barrueta, documents her eating and drinking including dining out and cooking in, via her beloved Instagram feed. Barrueta's 6,600-plus followers tune in for shots of home-cooked dishes (#RubeeCooks), restaurant meals (#RubeeEats) and libations all over town (#RubeeDrinks), in addition to a few travel photos to make you long for vacation. "I love Phoenix and believe it's well on its way to establishing itself as a great food city. Hopefully I'm doing my part to share this vibrant scene."
BEST FITNESS FEED ON INSTAGRAM: Jessie Hilgenberg, @jesshilgenberg
Among her top professional accomplishments, Jessie Hilgenberg has graced the covers of international magazines, has earned professional status in the International Federation of Bodybuilders and even launched her site, JessieFitness.com, when she was seven months pregnant. The fitness pro shares her workouts, incredible before and after shots and nutritious recipes with her 281,000 Instagram followers.
BEST LOCAL CELEB INSTAGRAM: Brie Bella, @thebriebella
There's a good chance that Brie Bella looks quite familiar; she does have 4.5 million Instagram followers, after all. She is a WWE SuperStar and star of the hit reality shows, "Total Divas" and "Total Bellas" on E! This soon-to-be mom, animal lover, locavore and environmentalist uses her social media platforms to promote positivity, bringing light to local businesses and charities in the Valley. "I go around the world trying to inspire, connect, unite and empower women." Also a 2016 winner!
BEST ARIZONA SORORITY INSTAGRAM: ASU THETA, @arizonastatetheta
Arizona State University's THETA sorority takes its 8,000-plus Instagram followers along on its adventures, whether celebrating the accomplishments of a sister, introducing new members or following a sister along on a cool trip.
BEST LOCAL CELEB TWITTER: Johnjay Van Es, @JohnjayVanEs
There is never a dull moment as morning- show personality, Johnjay Van Es, promotes upcoming events, recommends new songs or shows, shares pics of celebs and offers up hilarious commentary on current events to his nearly 375,000 followers on Twitter. Also a 2016 winner!
CUTEST KID INSTAGRAM: Cheeky Chic Baby Boutique, @cheekychicbb
More than 1,000 followers check into the Instagram feed of Cheeky Chic Baby Boutique at Scottsdale Quarter to see what's new in pint-size fashion, including one-of-a-kind pieces celeb tots have worn. Be on the lookout for upcoming casting calls to see your kiddos appear on the feed and store advertisements. Also a 2016 winner!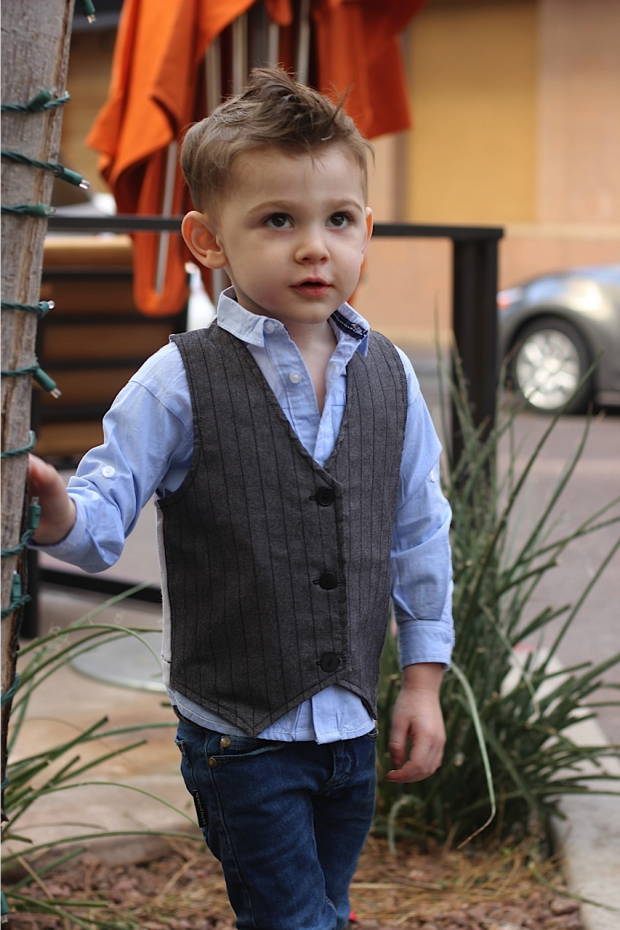 BEST HAIR FEED ON INSTAGRAM: Lindsey Rae, @lindsey_loxx
From gorgeous braids and just-the-right-amount-of-messy buns to brightly hued locks, more than 98,000 hair lovers follow Lindsey Rae's Instagram account for inspiration, product picks and some serious eye candy.
BEST MAKEUP FEED ON INSTAGRAM: Erica Mendoza, @junepearlbeauty
Erica Mendoza, of June Pearl Beauty, is a certified makeup artist, licensed aesthetician, eyelash extension stylist and beauty blogger, dishing out tips, tricks and thoughts on all things beauty to her 700 followers.
BEST PET INSTAGRAM: Chloe & Chipie, @chloeandchipie
Nearly 3,500 animal lovers follow the adventures of Chloe and Chipie, two Teacup Yorkies, via Instagram. The goofball pups, who are 2 and 1, respectively, love mini tennis balls, adorable outfits and the fabulous life.
BEST NEWS TWITTER: 12 News Phoenix, @12News
From late-breaking news to what tomorrow's weather will be, from sports scores to reports about your commute home, 158,000 locals turn to @12News for their up-to-date news intake.
FAVORITE SPORTS TEAM INSTAGRAM: Arizona Cardinals, @azcardinals
Whether celebrating the accomplishment of an individual player, wishing a happy birthday to a teammate or providing behind-the-scenes snaps of team-attended events, the Arizona Cardinals Instagram account is updated regularly for the 535,000 sports fans who follow.
BEST TRAVEL/ADVENTURE INSTAGRAM: Ian Silver, @iantothewild
Formerly @iansilverphotography, Sedona-based photographer Ian Silver uses natural light to capture the most stunning scenes for @iantothewild, from snow-capped trees to the red rocks of Northern Arizona to yellow fields of wild flowers.
MOST #WCW-WORTHY INSTAGRAM: Nicole Tanneberg, @nicoletanneberg
Though Nicole Tanneberg has been on Instagram for a year and a half, her account didn't take off until she focused solely on fashion and makeup about six months ago. (In fact, her first repost was by Kylie Cosmetics.) Her 113,000 followers come back time and time again for tutorials and photos that showcase her beautiful skin, envy-inducing brows and deep brown eyes.
MOST #MCM-WORTHY INSTAGRAM: MICHAEL FRANCO, @_MICHAELFRANCO_
Renowned Scottsdale- and Los Angeles-based photographer and makeup artist Michael Franco fills his Instagram feed with shots of gorgeous models, stunning celebrities and his swoon-worthy self. Nearly 18,000 followers flock to his feed to catch a shot of Franco's piercing eyes, perfect pout and just-right coif.
AFM FAVE! BEST PET INSTAGRAM: Project PAL, @projectpal_az
Project PAL launched just over a year ago with the mission to showcase one shelter dog per week who is in need of adoption. In the summer, Project PAL launched Pup Tees, in which 100 percent of every purchase was a donation. Thanks to this project, more than $20,000 has been raised for dogs in need at One Love Shelter Dog Program.
Buy your copy of Arizona Foothills Magazine Best of Our Valley 2017 Collectors Edition issue here.