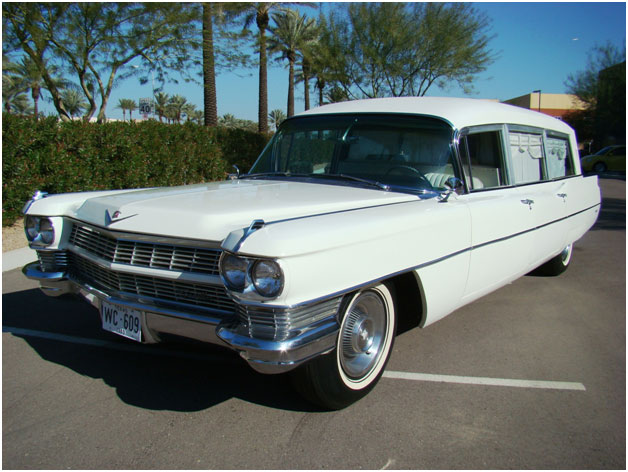 Friday, November 22nd, 1963, The world lost three looming figures of intellectual merit and leadership:  C.S. Lewis, Aldous Huxley, and, largely overshadowing the first two,  President John F. Kennedy.
Shrouded amidst much controversy and conspiracy theories which seem to multiply by the year(even now almost 50 years later), the day of the JFK assassination is a day which many Americans would like to forget.  But the fact remains that it did happen, and the event became a defining moment of a decade of struggle and cultural upheaval, ushering Lyndon Johnson into the Oval Office, and leading to an escalation and extension of the conflict in Vietnam(at least according to popular and academic analysis).
While we don't tend toward the morbid(or political) here at Vroom, we cannot turn a blind eye when one of the single most viewed vehicles in American history class goes up on the auction block in Scottsdale.  Next month the hearse which carried John F. Kennedy to  Air Force One the day after the assassination will go up for auction at the 41nd annual Barrett Jackson Collector Car Auction.
"The eyes of the world were on this car on that unforgettable day in American history," said Steve Davis, president of Barrett-Jackson. "It's one of the most significant and historical vehicles ever offered for sale."
This vehicle, for obvious reasons, would seem an odd choice as a daily driver, but would be ideal as a sort of memorial and show piece for the Phoenix Valley automotive enthusiasts who also moonlights as a history buff.
"It's an honor to be able to offer a vehicle of this stature," said Chairman and CEO Craig Jackson. "While its duty was solemn, it was also extremely important and played a crucial role in transporting the president so he could be laid to rest."
A vehicle carrying such profound historical significance does not go up for auction every day, thus in addition to it being a great show car for a history buff, it would also be a good investment in general, as a vehicle such as this can only appreciate in value over time.
The vehicle has had just three owners and will be up for auction at the 41st Annual Barrett-Jackson Scottsdale Auction, Jan. 15-22, at WestWorld of Scottsdale, Arizona.  Keep tuned to Vroom for more sneak peaks of the world class rare and collector vehicles to be offered at next months show/auction.