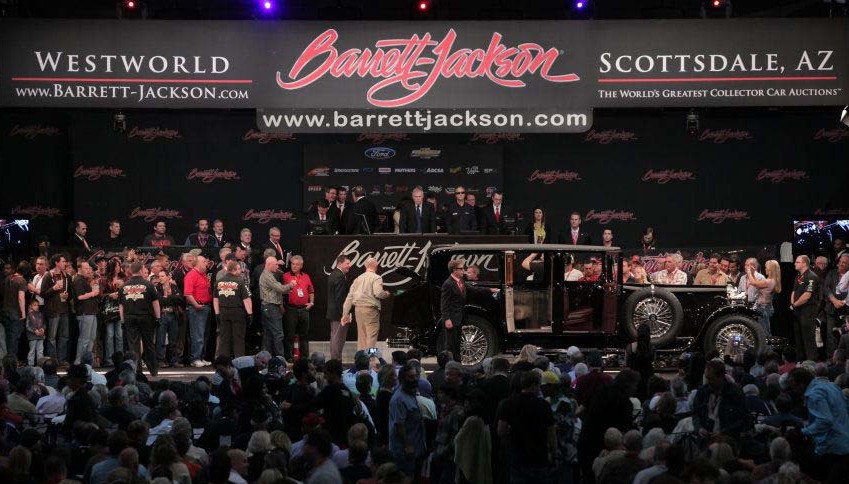 While there are still two nights left in Barrett-Jackson Dine and Drive Week, the big day is Saturday, when auction weekend kicks off with Barrett-Jackson Night at the Scottsdale Pavilions. There will be a car show, discounted ticket sales and giveaways, starting a week car and lifestyle events, demonstrations, Ford and GM ride and drives, and entertainment. The invitation-only ChildHelp Drive the Dream Gala also happens on Saturday.
The gates officially open on Sunday with Family Value Day, benefiting Cox Charities. Kids 12 and under are admitted for free to experience performances by Radio Disney, games, photo booths and other kid-friendly activities. Adult tickets are $10 on Sunday, and the event is open from 8 a.m. to 5 p.m.
The Sandbar Patio, vendor and sponsor displays open again on Monday morning at 8 a.m. with the ride and drives starting at 9 a.m. The invitation-only Opening Night Gala takes place that night.
The bidding action starts Tuesday with the Automobilia Auction at 9 a.m.; the first vehicles will cross the block at 2 p.m. The rest of the week will be packed with activity, including an American Car Collector Seminar at 9 a.m. and a NCRS Seminar at 11 a.m. on Thursday, and Meguiar's car care seminars beginning at 10 a.m. each day, starting on Thursday at 10 a.m. In addition, NASCAR Sprint Cup driver Kurt Busch will sign autographs on Saturday from 2 to 3 p.m. and Sunday from noon to 1 p.m.
A diverse lot of vehicles, including more than 40 Shelbys, ranging from a 1962 Cobra CSX 8000 to a 2013 GT Fastback whose proceeds will benefit Edith and Benson Ford Heart & Vascular Institute to the 1968 Green Hornet, make Barrett-Jackson a must visit. The auction will also showcase rare, award-winning collector cars with historical provenance as part of its Salon Collection.
Ticket prices vary, depending on when you plan to attend. Discounted tickets are available for purchase online; full-price tickets are available at the gate on the day of the event. All week passes are also available either at the gate or online. For a full schedule of events and to see all the vehicles that will cross the auction block, visit the Barrett-Jackson website.