One of my early Style File posts was on how to wear white. Like many women I have always had a love hate relationship with wearing the shade from head to toe. Clearly there is nothing more fresh than an all white ensemble but there is also no other color that seems to attract every makeup smudge, speck of dirt or spilled coffee. Then of course there is the feeling of looking larger than you are…. Do these white jeans make me look fat?
But this season white seems to be as popular as ever on the streets of NY and the sidewalk cafes of Paris. Refinery 29 did a profile of four gorgeous trend setters showing how- to- do- white- right that I just have to share. These four looks are wearable and easy plus there is something for everyone.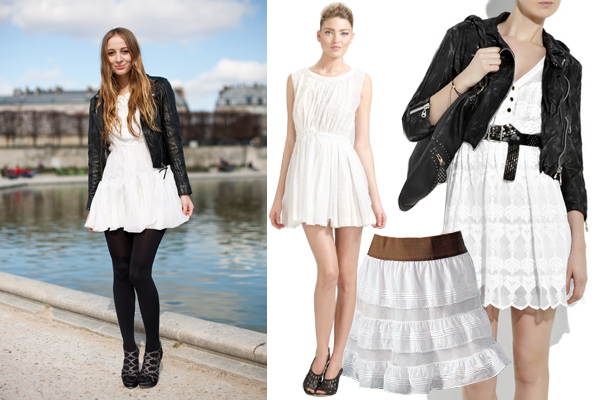 Harley Viera Newton the budding photographer and DJ who also plays bass in Lissy Trullie's band is a student at NYU and in her spare time works a retail gig. Photographed at Paris Fashion Week by Mr Newton Try these pieces to get the look Thakoon shadow print mini dress at Saks Fifth Avenue. French Connection ribbon waist dress in the middle. Alice by Temperly lace dress at Net-A-Porter.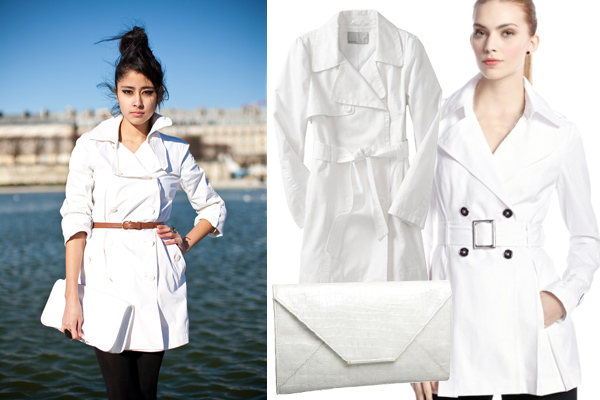 Though the iconic khaki trench will always take center stage you can think of the white trench as it's crisper more glam Springtime cousin. Style blogger Denni of thechicmuse.blogspot.com who seems to be all the rage in viral fashion talk these days
Photographed at Paris Fashion Week by Mr Newton. Get the look with this Old Navy Belted trench oldnavy.com on the left or this White House Black Market trench whitehouseblackmarket.com And this darling Abas rose envelop clutch at endless.com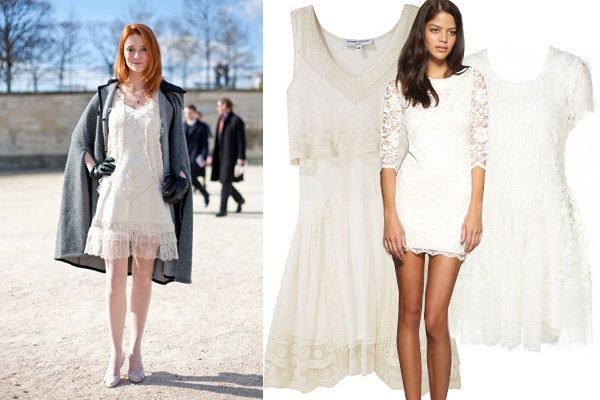 White lace isn't only reserved for walking down the aisle, give it a streetstyle twist like redheaded model Audrey Marnay with a pair of black gloves and a vintage cape. Photographed by Mr Newton at Paris Fashion Week. Try this Opening Ceremony embroidered mesh flapper dress at La Garconne on the left or this ASOS Petite lace backless dress at Asos. And for a more vintage look Topshop had just this affordable number on the right topshop.com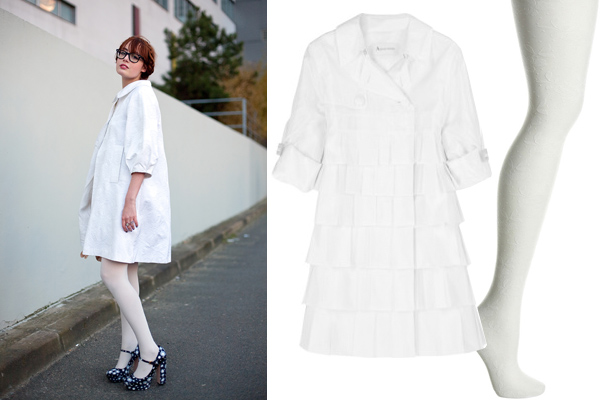 Lastly if you are looking for something less serious than a trench try a Princess Coat. Add some killer platform Mary Janes's like Louise Ebel the Sorbonne art history student and It girl in the making. She is quite the fashion muse and for good reason the girl takes risks and always comes up looking chic. Photographed by Mr Newton at Paris Fashion Week. Try this silk trench by Aquascutum available at theoutnet.com paired with back seams tights at Topshop topshop.com