A few weeks ago as I was taking an afternoon stroll with my husband through our favorite outdoor shopping center I stopped into the Ralph Lauren store. As I wandered through the beautiful wooden closets lined with luxury I was suddenly face to face with the most gorgeous green handbag I had ever seen. Once I caught my breath, I looked around and found that I was in the midst of not just this handbag, but tops, skirts, and jackets of the same Racing Green… The proper name of my new obsession. Just weeks later I noticed that similar greens were popping up seemingly everywhere.

At Ralph Lauren, $1950
Let's start with my very first encounter at the Ralph Lauren Store. The 'Suede-Python Feed Bag' has forced its way into my dreams, my thoughts, and my wish list. A fall bag worth splurging on indeed!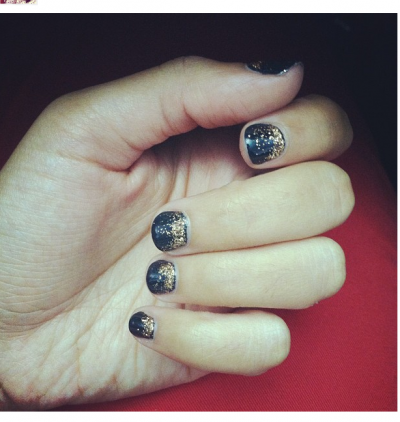 Picture: Instagram @joannealma
"Too matchy, matchy" the famous words uttered to Whitney Port on the Hills will not soon be forgotten, but I'm here to say that some times match-matchy isn't too much. For example, Essie's Stylenomics dark green polish, I see no problem with your opulent green nails matching your gorgeous RL bag… do you? Of course if you are feeling like you might be over doing it a tad (but isn't that what fashion is about?) add a little copper glitter to the base of the nail for a nice contrast.

At Net-A-Porter, $1195
Already looking to stock up on holiday party dresses? This Alexander McQueen is sure to turn heads. The knitted pattern is fresh off the catwalk, and will ensure that you're hitting two trends with one dress– a la baroque.

At Bloomingdales, $395
Need a new pair of booties… in green? I thought so, and though it may seem quite a task to hunt down a pair of suede booties in a color that can range from a horrid gang green to an almost as horrid bright turquoise I managed to find a pair that is worthy of showing off to the world. Thanks to our favorite celebrity stylist Rachel Zoe now your feet can get in on this trend with the Audrey Platform (with genuine snakeskin goring).
Hair chalk is a major DO right now, as seen on the Oscar de la Renta runway just a few weeks ago. In this case you really might want to heed the match-matchy warning and perhaps just choose the nails OR the hair.
By Kristianne Young