Let it be said that….I'm finally feeling the fringe. I saw it on tons of boots, bags and dresses for Fall 2008 and it made me a bit squeamish. But recently, I've experienced a change of heart. I'm still not all about it in certain capacities, it must be done right, but for the most part it can definitely be said that for spring 2009, I'm totally feeling the fringe.
I just got back from spring break with my mom in Las Vegas where I picked up this pair of brown suede fringe sandals.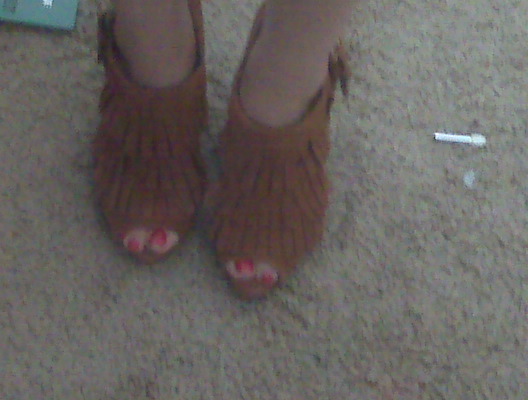 They're super adorable, and I'm thinking with one of this season's swingy skirts or a summery white dress. I don't have the white dress yet but, guess I'll add that to the list.
This season, you can find fringe in bags, boots, sandals, vests, tops, dresses, you name it. I'm still not completely sold on the fringe bag look, it may be right for some but just don't think I could pull it off. Fringe sandals on the other hand, I'm definitely loving. It's like I can finally channel that inner-bohemian/hippie look I never knew I had.
I'm not saying I love these all, because, well, I don't, but here's some of the latest fun stuff in fringe.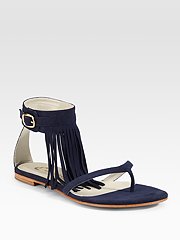 These Candela fringe sandals would look great with a pair of jean cutoff shorts. (Yes, jean cutoffs are back and hot again.)
I'm super in love with this 3.1 Phillip Lim fringe dress from Net-a-porter. And it's channeling this season's nude-color trend too.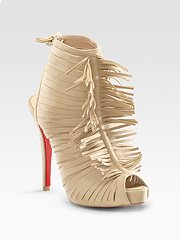 These Christian Louboutin fringe boots are super sassy and fashion-forward.
These are not for the faint of heart. And not a look I could personally pull off. But if you have the guts, these Christian Louboutin fringe boots are a definite show-stopper.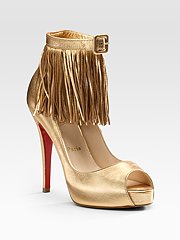 Christian Louboutin was clearly feeling the fringe too this season. These gold fringe pumps are an interesting evening choice.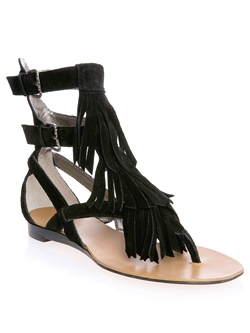 I almost bought this pair of Guess fringe sandals while on my trip. Again, would like great with a summer dress or cutoff shorts. They also come in nude (below).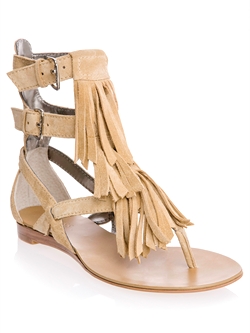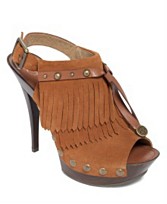 Jessica Simpson does fringe in an open-toe bootie style.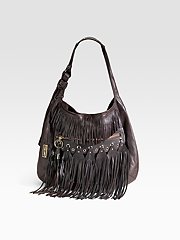 And if you are into the purse fringe, here's one from Jimmy Choo that's all fringed out.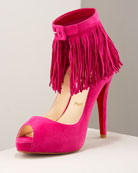 These hot pink Christian Louboutin fringe pumps are by far the most eye-catching of the bunch.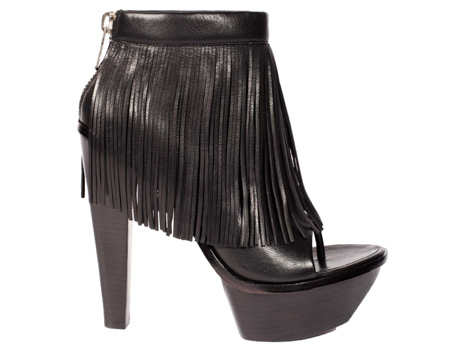 And I know, I'm pretty sure I've posted these before but I'm still totally obsessed with Alexander Wang's fringe open-toe boot. Lust.