I have a confession to make: I honestly did not think that wine, bordeaux, deep red, burgundy, or whichever name you would like to give it would be a trend this season. Yes, I know it would seem to be a trend every fall/winter, but that is precisely why I thought this year might be different. I mean we have the fabulous greens and well, just red, lovely brocades, and fun patterend sweaters. However, it seems that everywhere I look I see the deep red hue….and I love it (not to mention it is on my fingernails as I type).
One of the best ways and my personal favorite way to wear this trend is with a pair of merlot pants. I found this look on Pinterest and I'm loving the edgier look a la fur vest and boots.

Another great thing about this trend is that it is coming in different textures and fabrics: velvet, courderoy, brocade, and every girl's favorite stretchy denim!


Tom Ford Ultra Shine Lip Gloss in Naivete
Cheryl Wischhover editor at Fashionista.com found her newest wine obsession it's from Tom Ford's beauty collection, and it's in his fall offerings. First of all, it's the perfect hybrid winey-red color, called Naivete. It doesn't read goth and it doesn't read Marilyn Monroe, either–and the color is rich and concentrated the way a lipstick is. (And I'll confess I like shiny lips–never got into the matte lipstick trend.). The best part, though, is that it actually stays on. I put a little colorless lipliner on, brush this on top, and feel completely transformed. I've been wearing it everywhere, and have been asked not once but twice on the subway what color it was. If that's not a testimonial, I don't know what is.
A sexy and classic way to wear the luxurious color is with a sweater dress. Pair with your favorite fall boots and you are set for a fun fall evening. A great date option.
I mentioned earlier that I was wearing this color trend on my fingernails so I thought I would share. If you know me then you know I love glitter nail polish, and Nicole by Opi always has a fabulous selection. This time I chose Shoot for the Maroon which is a bit more subtle, a kind of grown up glitter lacquer.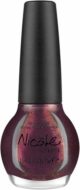 Of course there is always a chance that you still have some fabulous pieces from seasons past in your closet. Grab your favorites and pair with some new pieces for a quick fall/winter wardrobe update.
By Kristianne Young