One of the fun ways to brighten up any wardrobe, but especially a spring/summer wardrobe is by adding accessories. There is the tangerine purse, the neon pumps (a la McQueen and Brian Atwood), and then there is a plethora of fun jewelry.
Many of the season's popular jewelry trends are, as all trends, a fresh spin on several classics. Which means more than likely when summer comes to an end and Labor Day rolls around you can store them for next year or maybe even use them next season.
Link necklaces are hot right now and you can get them from virtually anywhere and in virtually every color, material, and length.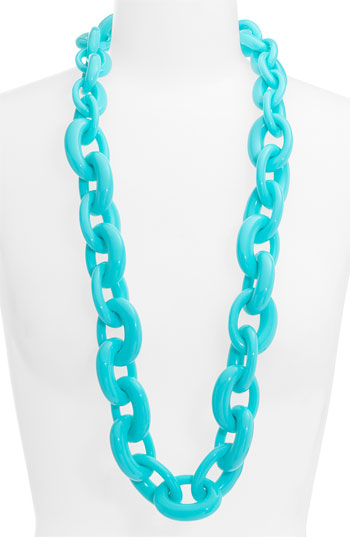 Nordstrom, $195
Do a pop of color with Tory Burch's Oval link necklace made of Turquoise resin fittingling called Lagoon. Layer with other colored resin links for more fun.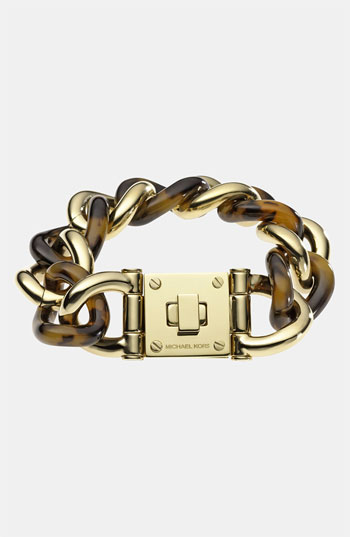 Nordstrom, $145
I'm also impressed by Michael Kors Heritage Turnlock bracelet. This is a go-to when you are wearing your favorite polo shirt, skinnies, and a pair of topsiders or wedges.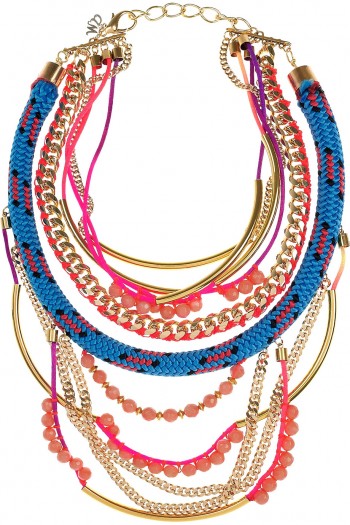 Net-A-Porter, $430
We've heard of the arm party, but Assad Mounser took it an extra step with what I'm going to call the neck party. This Shiprock gold-plated multi-chain necklace will go great with any bright, bold, or even neutral spring/summer outfit.
Spikes are making a comeback in a not so gothic or even neo-gothic way—rather an elegant take on the slender spear shapes. Dominic Jones created these gold spike earrings fit for a ball and Ileana Makri's triple spike ring will no doubt get you noticed…just be careful to not poke anyone's eye out with your new favorite accessories.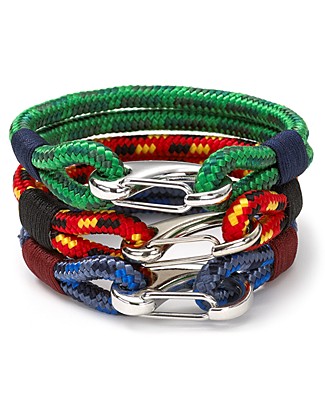 Bloomingdales, $35
Another classic or perhaps better-stated childhood favorite has made a return on the fashion scene—the Bungee Bracelet. If you are a do-it-yourselfer than you could probably whip one of these up yourself, but I am not, and if you are not RJ Graziano has come up with the bracelet for you. I especially like the double wrap version.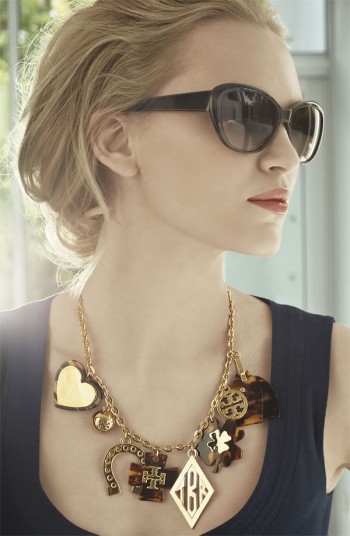 Nordstrom, $295
Charms are back, but not the kind that link together by some impossible sliding metal thing (of the Italian sort), but rather the big, eye-catching, jaw-dropping type. Tory Burch has come out with a statement necklace full of charm, the Tilsim Equestion charm necklace boasts gold-plated and tortoise-shell logo detailed charms.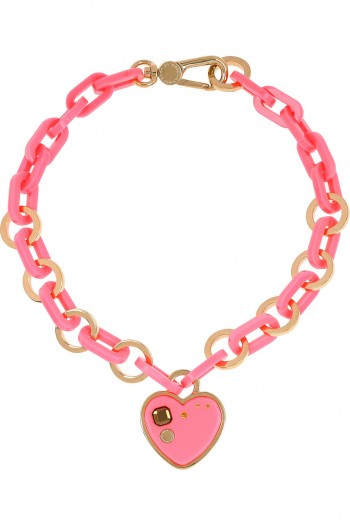 Net-A-Porter, $150
Marc by Marc Jacobs combines two spring /summer trends with the Heart brass and acetate neon-pink link and heart charm necklace.
By Kristianne Young