Just this morning, someone sent me a Tweet asking when it is okay to start wearing white jeans. Of course, I was happy to relay to my Twitter friend that she could start wearing them now, because the white after Labor Day rule certainly holds no ground these days… plus white was a huge trend this winter. The fact that I even received such a question hints that people are itching to get out of their winter layers and into lighter fabrics and colors.
If like my friend, you are longing for springtime, but the weather isn't cooperating just yet add a bright colored cardigan or white jeans into the mix. But just because you can't wear tanks and shorts doesn't mean you can't enjoy some spring trends. Today Fashionista.com came out with their "Ultimate Spring 2013 Nail Polish Guide." Check out some of my favorite picks and be sure to read the entire guide here.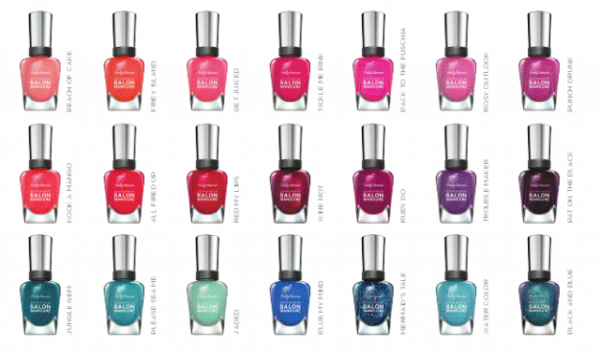 Sally Hansen "Complete Salon Manicure":
Vibe: Sally Hansen overhauled its popular Complete Salon Manicure line, adding in a gel-like shine and better chip-resistance to the formula. So what that means is that every single one of these shades–except for 10–are new for the season. We tried a bunch–it's a great formula. The flat brush is especially easy to use, and you won't find a color like "Black and Blue" (it's like an iridescent beetle–in a good way) anywhere else.
Colors: See photos for polish names.
Buy It: Target, $6.59

Butter London "Sweetie Shop":
Vibe: Think "sherbet" and you'll have an idea of the theme here. "Cuppa" is an earthy neutral to cleanse all that sugar from your palette.
Colors: (L–>R) Jasper, Kerfuffle, Fiver, Fruit Machine, Mollycoddled, Cuppa
Buy It: Macy's, $15

Illamasqua "Speckled":
Vibe: They really are speckled! Illamasqua is known for its unusual colors, and this collection stopped me in my tracks at first–it's pretty edgy. On close inspection the speckles are actually matte black glitter pieces. Not for the faint of heart.
Colors: (L–>R) Freckle, Speckle, Mottle, Fragile, Scarce
Buy It: Sephora, $16


Deborah Lippmann "Romantic Rapture," "Staccato":
Vibe: The Staccato collection is Lippmann's version of the black glitter polish, and it's pretty and feminine. Romantic Rapture is a classic trio of nude, icy blue, and pink.
Colors: (L–>R) I'm Not Edible, Polka Dots and Moonbeams, Rockin' Robin, Careless Whisper, Moon Rendezvous, Groove Is In the Heart
Buy It: Bloomingdale's, $17.00
Photos: fashionista.com