Perhaps it the fact that I have insomnia which leads to watching far too many classic movies but there is something so amazing about that fifties and early sixties minimalist chic that I absolutely adore. Last night Lana Turner once again mesmerized me in the amazing flick "Imitation of Life". Sheesh, not only does the movie make me cry every single time, but I was drooling (figuratively not literally) over those perfectly fitted dresses and wraps topped off with elegant pearls.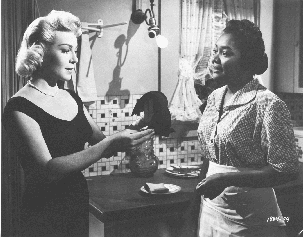 Simultaneously during the Lana Turner fest, I was flipping back and forth with another movie that I had never seen called "Whirlpool" an Otto Preminger film with Gene Tierney. Tierney plays a woman who suffers from kleptomania and undergoes hypnotism to help cure her problem, soon she is found at the scene of the murder of an acquaintance with no recollection and no way to prove her innocence. So Tierney spends much of the movie looking like the most chic jailbird I have ever seen. She is dressed in a black turtleneck, black skirt and pearls…coiffed to perfection without as much as a hair out of place or a smudge in her eyeliner…it's divine!

Even though I have an affinity for great details, I have the heart of a minimalist and this season with all the amazingly chic pieces that have rolled off the runways it is possible to look amazing while minimally perfect.
For day this Stella McCartney sweater just flips my lid. I love the neutral gray shade that will work with just about everything in your wardrobe from black pencil skirts to skinny jeans, flats or sky high heels.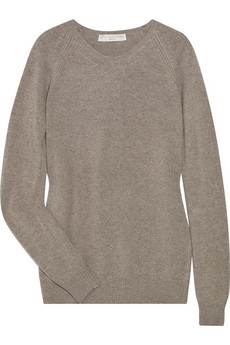 Or how about these Jil Sander slim charcoal colored cashmere blend pants? They work well with anything from a turtleneck to a plain old tee or even a boyfriend jacket.
And they perfectly pair with one of my favorite bags of the season the Marni bowling bag (shown above and below) in soft tan. Both are austere perfect neutrals that you will have for seasons to come.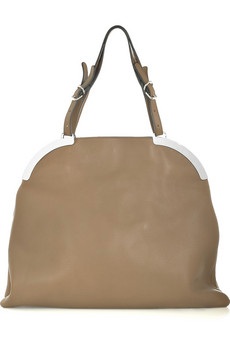 Because I am a big fan of a statement cuff this Mason Martin Margiela caught my eye in a big way. This molten metal has a crinkle effect that adds extra oompf without being too overpowering.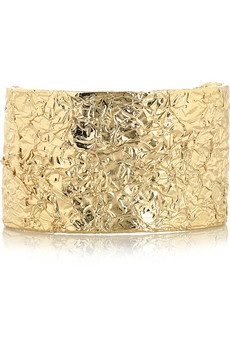 And for a little icing on the cake what could be better than a timeless four inch pump in shiny leather? These Christian Louboutin's reminiscent of the kind worn by classic cinema heroines come in you-can't-go-wrong shades of black or tan.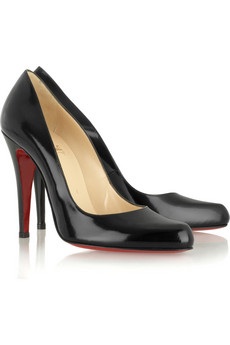 All pieces available at netaporter.com