I never tire of runway shows, truly and this time of the year has got to be the most exciting. What can compare to going from New York Fashion Week to, London then straight to Milan? Really I want to turn away, I want to ignore to, but in the words of Michael Corlone from the Godfather III… "they keep pulling me back in."
This time it's Gucci's Frida Giannini that really woke me up- the flowing dresses, opulent furs, bold palette was all too alluring and enticing..
Frida Giannini's overt ode to Yves Saint Laurent could be seen as a quizzical choice, given spring's multidesigner, multicity homage to the master. Yet Giannini made it work, translating some of fashion's most mined material into a feisty lineup that, while not inventive, was all Gucci in its bravado.
Vibrant colors, piles of fur and a quite literal rendering of the Forties-through-Seventies-lens silhouette, this lineup will not be ignored. "I wanted a cinematic allure," Giannini said before the show. "This woman has a mysterious side." In the juxtaposition of wild colors and multiple takes on Ingrid Bergman's "Casablanca" fedora that finished numerous looks, Giannini telegraphed the essence of the Gucci girl: She likes — make that demands — to be noticed, yet she fancies herself someone to be figured out. The palette alone was vibrant and gorgeous. Shades of greens, peacock blue, purples and curry.
The clothes required no decoding — they're about well-tailored flash. Giannini opened with a longhaired goat jacket in jade green over a bright blue blouse (tied at the neck, of course), deep blue velvet jacket and gray flannel culottes. This was on the quiet side next to the chartreuse chubby over two shades of rose over a gray skirt, or the purple chubby over bright red and orange over a brown skirt. And beneath the dyed fox, goat and Mongolian lamb were appealing, wearable clothes with plenty of panache: curvy skirts, wide-legged pants, those tie-neck blouses and some lovely shirtdresses with a hint of the peasantry about them.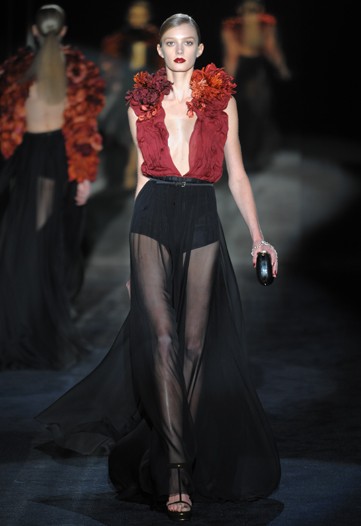 It all made for fanciful viewing, including Giannini's two freshest ideas. For evening, she ditched the fur, preferring to render traditional jacket and stole shapes in silk flowers, each petal — and there were millions — hand-painted and hand-sewn. These topped sheer chiffon gowns worn over briefs. Second, Giannini's delightful proposal for how to carry a small bag for day — you know, the kind of bag that's ultrachic but virtually useless: Pair it with a big, useful companion bag. Assuming timely delivery, next season fashion editors can swap out those schleppy totes they leave in the car for a double dose of chic.
Some content re-edited from Women's Wear Daily.