Whether you voted red or blue, if there's one thing on any fashionista's mind tonight it's what will Michelle Obama wear to the inauguration ball? My TV is on in the background with the inauguration ceremony and thus far I have to say, I'm less than impressed with that green thing she's chosen for her husband's swearing in.
But if one thing is true about our new First Lady, it's that she's managed to command the attention from fashionistas everywhere, being compared to the likes of one of history's greatest fashion predecessors, Mrs. Jackie O Kennedy. Her classic designer choices mixed with more demure pickings on the campaign trail (who can forget that little sundress from the Gap?!?) have undoubtedly caused quite the stir. But many experts say that her choice of attire for the Inauguration Ball tonight will set the tone for the presidential campaign throughout the year.
Now while I'm clearly all about fashion, I'm not sure how much one dress can affect the tone of the next four years but O.K., I get the point, it's undoubtedly an important decision.Then again, if you take a look back in time, you can see the point in the seemingly outlandish statement. Case in point, Nancy Regan, who chose a John Galanos white asymmetrical gown for her husband's inauguration, which was followed by, what parentdish.com writer Susan Wagner calls "eight years of White House glamour."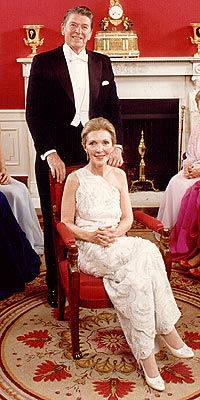 Roslynn Carter chose to wear a Mary Matise for Jimmae gown for her husband's inauguration which she had also worn to her husband's swearing in as governor. The country was in an economic slump of the time and her choice to repurpose an already worn gown, clearly reflected that.
For Michelle, I'm hoping to see something bold, something designer and something that hopefully makes a nod to positive changes ahead. I'm thinking Oscar de la Renta, Ralph Lauren or Carolina Herrera, designers that are undoubtedly classic American.
WWD asked designers for some sketches of what the First Lady should wear this evening and here, are a few of my favorites.
Luckily, all our curiosities will be answered tonight but the most interesting of questions to be answered more than likely is, will the new First Lady choose stand by her husband clad in something glamorous befitting of her new post or will she, yet again, reach for something a bit more modest and go with a relatively unknown designer or, (dare I even say it?) off-the-rack.
Personally, I'm hoping for something elegant and upscale because she is, after all, the new First Lady and her gown should absolutely reflect that and give the rest of us Americans, something to pine for.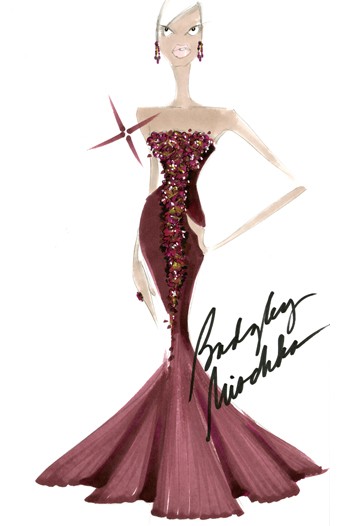 Sketch by Badgley Mischka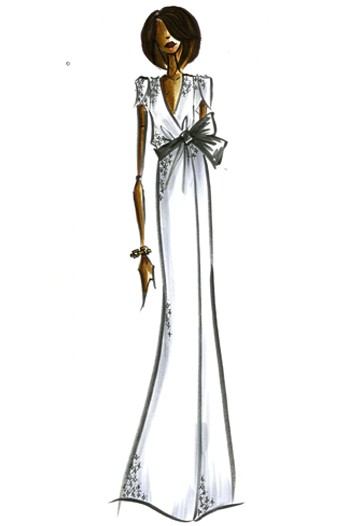 sketch by Diane von Furstenberg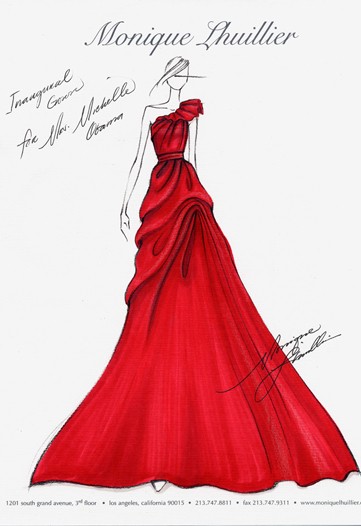 sketch by Monique Llulhier (and my personal fave)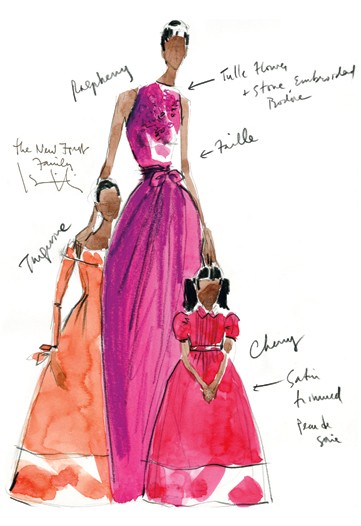 sketch by Issac Mizrahi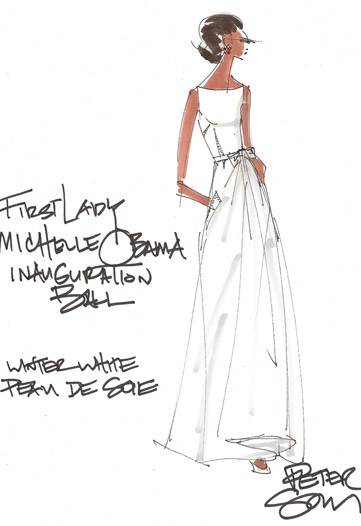 sketch by Peter Som