I spent the weekend styling and fixing the most fabulous group of women for a makeover show and though the days were long and at times frantic it was an absolute blast.
During the two days of makeup and styling the question of what to wear for Halloween came up… the consensus; how irresistible is the idea of being Joan Holloway or Betty Draper for the evening? And of course you can get your guys in on this one a la' Don Draper or the swanky Roger Sterling.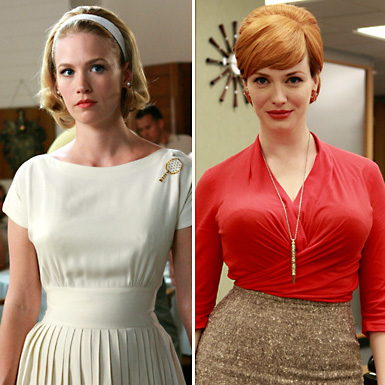 Here are a few hints on how you can whip up a Mad Men look in a flash with a minimal budget.
For Joan
She is the absolute definition of a bombshell. To get the look you'll need the red hair, so be sure to carefully choose a wig that fits properly, and one that you can comb and curl if needed. Of course bright red lipstick is a must along with black cat eyeliner and lashes. Look for a curve hugging dress in a strong shade like red, purple or green. Joan is never a wallflower and rarely wears muted colors. If needed a pair of "chicken cutlets" like the ones by Miss Oops! will help in the curve department.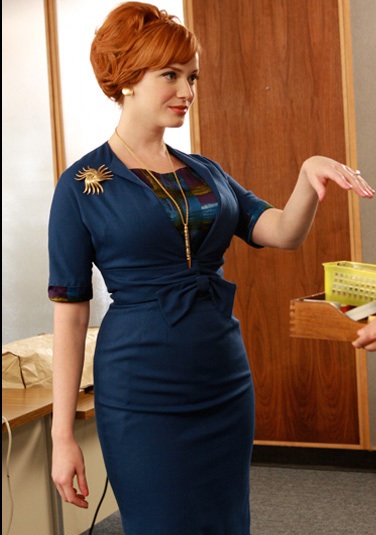 For Betty
Her look is Grace Kelly for sure. And this look can be varied depending on which part of her life you want to emulate: there's Betty the homemaker which can be recreated with a simple vintage dress and pumps. There's super wife Betty who takes her housewife look up a notch with lots or pearls brooches and heels,. Then there is evening Betty, this is the time to pull out a gorgeous cocktail dress and pair it with a swishy updo, gloves and rhinestones. For Betty's flipped up do, set hair with rollers, then tease the crown (or add a bump-it to the front) smooth hair over it and add a headband for day, and for night pin the back into a twist and tuck extra pieces under and pin to hide them. Black eyeliner is a must and a peachy-pink lipstick to round out the look
For Don Draper
Don's look is classic. A dark suit in navy or gray will do the trick, pair that with a thin tie and a crisp white shirt. And be sure to pack on the pomade to recreate the quintessential side swept hair. Don always seems to have a lighter on hand to help any women with a ciggie. Of course a rocks glass will also work well for your evening cocktails.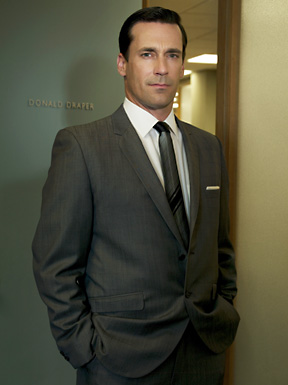 For Roger Sterling
The silver fox always wears a three- piece suit in gray, add a black tie and white shirt and you are set to go. For your hair, try a temporary spray in hair color in gray or silver and cigar or martini glass will help seal the deal on this look.