Every season, I try my best to gather all of my gently worn clothing, accessories, and shoes together in order to donate them to my nearest Goodwill or charity organization. I feel great knowing that they are going to others who undoubtedly need them more than I do, but then there are those clothing items that have seen their last day. You know, the shirts with the moth holes, the bra with the underwire popping out, and the dreaded stained silk dress. I cringe at the thought of throwing them into the garbage can because something tells me it will be taking up precious space in the ground for longer than I'll live and sending them on their way with the rest of my donations for someone else to deal with is beyond what my conscience can take.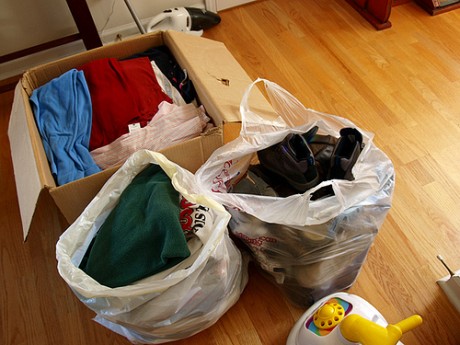 If you've ever been in this situation then like me you probably just end up stuffing them into a garbage bag that sits in the spare bedroom for months on end until you finally throw it in the garbage. Well, ladies this will no longer be the case thanks to H&M's new global clothes collecting initiative to launch in February 2013. The fashion company will be the first to launch this kind of sustainability initiative:
"Our sustainability efforts are rooted in a dedication to social and environmental responsibility. We want to do good for the environment, which is why we are now offering our customers a convenient solution: to be able to leave their worn out or defective garments with H&M, " says Karl-Johan Persson, CEO H&M.
H&M will be the first fashion company to roll out clothes collecting in selected stores worldwide. Through the global initiative H&M's customers can save natural resources and contribute to reduced environmental impact by avoiding textile waste. Any pieces of clothing, from any brand and in any condition are accepted. In return, the customer will receive a voucher for each bag brought. The collected clothes are then handled by H&M's partner, I:Collect, which provides the infrastructure in which consumer goods are repeatedly reprocessed and made available for new use.
Every year tonnes of textiles are thrown out with domestic waste and end up in landfill. As much as 95 percent of these clothes could be used again; re-worn, reused or recycled – depending on the state of the garment. Long-term, H&M wants to reduce the environmental impact of garments throughout the lifecycle and create a closed loop for textile fibres. The aim is to find technical solutions to reuse and recycle textile fibres on a larger scale, which is why H&M has set up its Conscious Foundation: to support innovation on closing the loop on textiles and social projects along H&M's value chain.
Kristianne Young
Source: hm.com