As I returned home this morning after an all night photo shoot I had hoped to hit the hay and be out like a light within seconds, instead I found myself wide awake and trying to remain as stealth as possible so as not to wake my husband who was slumbering peacefully. With a stack of new magazines all waiting for my skimming I decided that a bit of frivolous reading might just do the trick. Though I had skipped buying Glamour Magazine for years recently after my beloved Domino Magazine went bye-bye Conde' Nast apparently decided that it was a suitable replacement. And as the months go by I am pleasantly surprised at the fresh and unexpected content.
In the latest issue a fun and appropriately styled shoot with the US Women's Olympic snowboarding team. Generally I just abhor when magazines take strong athletic women and try to glam them up in little girlie party dresses and over the top heels. With the exception of only one other mag, Vogue, rarely do the shoots ever look natural or the athletes look relaxed and comfortable. But I must say the peeps at Glamour did it well.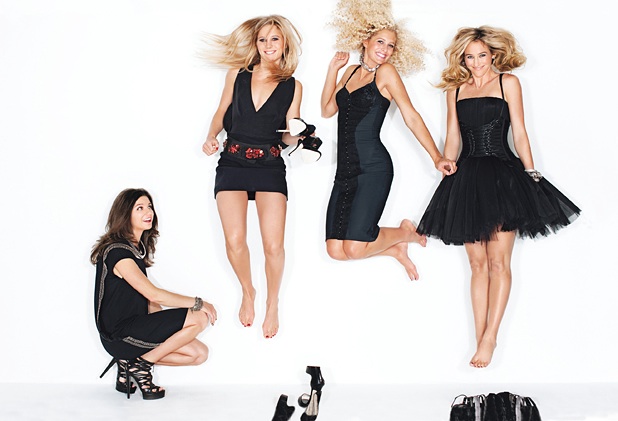 Each snowboarder dressed in a different but equally sexy chic ensemble in mid air jump somehow it looks real and not forced. Bravo! And they were smart enough to balance out the dressed up look with an equally fun page of the girls in snowboarding apparel. Clearly someone was thinking rationally.
And further kudos for the spread "You'd look even better naked" featuring model Crystal Renn the notoriously gorgeous and curvaceous size 12 model who is the only Plus sized model to appear on the cover of Harper's Bazaar and international versions of Vogue as well as campaigns for Mango clothing. The editorial features Renn looking impeccably beautiful in a variety of nude colored clothing from lingerie to sheath dresses and evening gowns.
Renn is obviously a knockout and a rare figure (excuse the pun) in the modeling industry and I for one hope that her higher profile will help other publications to follow suit. The problem plaguing most publications is that although the general public may complain about models appearing to be too skinny, when larger sized models are used circulation goes down. Hopefully the success of Dove's "Campaign for Real Beauty" and models like Renn the doors have been open to further acceptance of all sizes in print.